To:

Joe Maswanganyi , Department of Transport Minister
Stop forced evictions of communities in Amadiba!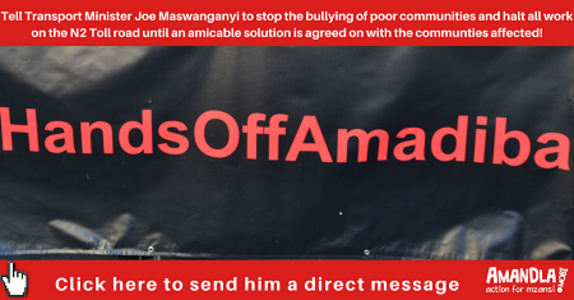 We call on you to put a stop to the construction of N2 toll road until proper consultation has been done and an amicable solution reached with the affected communities.
Why is this important?
SANRAL is pursuing the construction of a new toll road highway through the Wild Coast region of the Eastern Cape – a road that would have potentially disastrous effects on local communities and the environment.
The proposed new toll will dissect the ancestral lands of the people of Amadiba Traditional Authority, the majority of whom are strongly opposed to its construction, and would rather prefer improvement to the existing network of roads upon which existing towns and villages rely.
About 40 families, a number of schools and grave-sites under the Amadiba Traditional Authority alone will be relocated from their land if SANRAL goes ahead with the N2 Toll construction they are planning. It will be the second time some of these communities being moved. First it was to make way for Sun international to build a holiday resort in the 80's under the then Homeland government. Now in the new dispensation, under democratic rule, they are again pressured to move and are not even consulted on it [1].
Vusi Mona, the spokesperson for SANRAL said work on the project would go ahead as planned unless government said otherwise [2]. This blatant disregard for community concerns is alarming.What of the much touted Batho-Pele principles? Why is our government unsympathetic to the cries of the people? Why do they continue putting profits before people?
This imposed toll road and mining projects are leaving those whose lives will be directly affected unable to assert their democratic rights to participate effectively in the decision-making processes that impact on their lives, or to protect themselves against the powerful political and corporate greed that wish to exploit their resources.
[1] Community members and organisations explain why they don't want titanium mining in Xolobeni. Amadiba Crisis Committee, Xolani Ntuli & Others. 12 August 2013.
[2] Xolobeni villagers are "tired of being abused". By Lubabalo Ngcukana, 16 April 2017