Global Day of Climate Action - System Change Now: Khayelitsha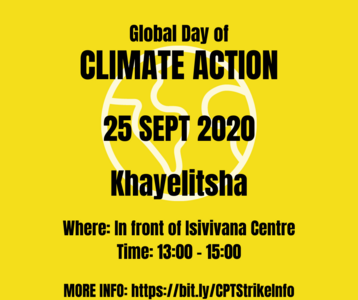 There is a Global Day of Climate Action following the Fridays For Future call for action.
We will be no different! Join us on Friday the 25th of September to Call for System Change Now. We need to call for climate action and climate justice as well as an end to the social injustices that intersect. We need to build a stronger, more informed base for climate mobilisations in communities, and to push for the call for a Just Transition and a Just Recovery.
For updates check: https://bit.ly/CPTStrikeInfo
Disclaimer: For every action youth safety and health must be a priority. Youth and those present must be wearing masks, they must also be sanitizing, and at all times must be physically distant.
Starts on
Friday, 25 September 2020 at 1:00 PM SAST
Ends on
Friday, 25 September 2020 at 3:00 PM SAST
Links