To:

Station Commander Lieutenant Colonel Helana Mouton and Head of IPID Robert McBride
Justice for Esethu Mcinjani. We demand police to be held accountable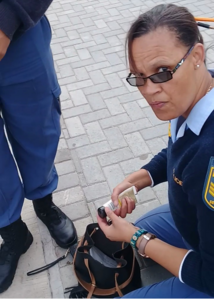 Dear Station Commander Lieutenant Colonel Helana Mouton and Head of IPID Robert McBride
We demand that you publicly commit to investigate and take disciplinary actions againt Sergeant Smith and Constable Prince for their prejudice and violating Esethu Mcinjana's rights by the end of June.
We also recommend that all Police Officers, especially in the City of Cape Town attends a course on the Bill of Rights, and about the history of racism/apartheid in South Africa by the end of the current financial year.
We are tired of being questioned and being violated by police officers who do not know our rights and responsibilities as citizens of South Africa in 2019.
Why is this important?
Esethu Mcinjana was arrested on Sunday 19 May 2019,spent the night at Sea Point Police Station.This happened shortly after arriving early for a job interview at a hotel. She arrived early for the interview and went to sit on a bench on the promenade to wait while taking selfies.The two police officers came and searched her going through her handbag. Finally, they decided to arrest her without any valid reason or evidence.
This is wrong on many ends and in a democracy of 25 years, it violated so many rights of this Black Womxn.
During apartheid in South Africa, the freedom to movement of black citizens to and from urban areas were restricted through pass laws. The right to movement and residence is a key aspect of respecting people's freedom. However, in the case of Esethu it can be concluded that this right was clearly violated because of the color of her skin and the area she was found arrested in.
The two police officers failed to uphold the law as they violated Esethu's right to equality. Meaning she was not treated equally and fairly, she was discriminated unfairly on the basis of race, gender, ethnic or social origin. This is evident as she told them and showed them (email/message) why she was in that area, at that point in time. To even question why she is there, is already wrongful in many basis.
The arrest could happen to any of us on any given day, especially in a city like Cape Town, were black people's movement is constantly questioned because of racism that continues to thrive even after 25 years of democracy. Surely, this systematic issue needs to be addressed urgently in this country.
1.Ella Ndongeni. A woman was taking selfies on a Sea Point bench. She was arrested and locked in a cell overnight. GroundUp. 23 May 2019
2. Bill of Rights. The Constitution of South Africa.