To:

Provincial Departments of Education
MECs of Education across SA: Provide free pads for underprivileged school girls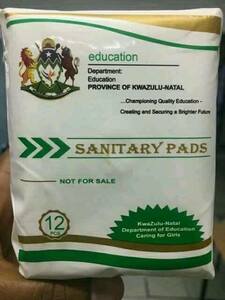 This week, news of the KwaZulu-Natal Department of Education launching a programme to provide sanitary pads for school girls in grades 4 - 12 in 2 992 qunitiles 1 - 4 schools broke and was hailed across the country.
The programme saw the department distributing four packs of pads per learner, aimed to last between January and April 2017.
From May onward, learners will receive one pack a month from their school.
No other province in the country is known to have adopted such a campaign. We urge all other MECs for Education and provincial governments across the country to follow in KZN's footsteps and launch similar programmes.
Why is this important?
According to research, millions of girls, mostly underprivileged in rural and township areas, lose out on school days as a result of having to stay home during their monthly period, for fear of being humiliated by not having proper sanitary protection. Added to this is the cost of buying pads, which many of us take for granted, but is for many, just too expensive.
It also affects the reproductive health of these girls as some go extremes such as using newspaper and even cow dung.
This is simply something we cannot overlook, menstruation is a natural process no girl can help and should not be a reason they do not attend school and fall behind on their studies.