To:

Lindiwe Zulu, Minister of Social Development of South Africa
Pay The ECD Relief Funds Now!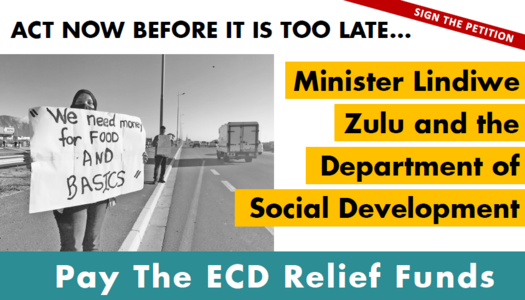 The Centre for Early Childhood Development has sent this open letter (https://bit.ly/3sQdX79) to Minister Lindiwe Zulu. A summary is presented below. Sign the petition if you support this urgent request!
𝗧𝗵𝗲 𝗗𝗲𝗽𝗮𝗿𝘁𝗺𝗲𝗻𝘁 𝗼𝗳 𝗦𝗼𝗰𝗶𝗮𝗹 𝗗𝗲𝘃𝗲𝗹𝗼𝗽𝗺𝗲𝗻𝘁 𝗵𝗮𝘀 𝟮𝟴 𝘄𝗼𝗿𝗸𝗶𝗻𝗴 𝗱𝗮𝘆𝘀 𝗹𝗲𝗳𝘁 𝘁𝗼 𝗽𝗮𝘆 𝗼𝘃𝗲𝗿 𝟳𝟬,𝟬𝟬𝟬 𝗘𝗖𝗗 𝘄𝗼𝗿𝗸𝗲𝗿𝘀 𝗳𝗿𝗼𝗺 𝘁𝗵𝗲 𝗣𝗿𝗲𝘀𝗶𝗱𝗲𝗻𝗰𝘆'𝘀 𝗘𝗖𝗗 𝗘𝗺𝗽𝗹𝗼𝘆𝗺𝗲𝗻𝘁 𝗦𝘁𝗶𝗺𝘂𝗹𝘂𝘀 𝗥𝗲𝗹𝗶𝗲𝗳 𝗙𝘂𝗻𝗱 𝗯𝗲𝗳𝗼𝗿𝗲 𝘁𝗵𝗲 𝗱𝗲𝗽𝗮𝗿𝘁𝗺𝗲𝗻𝘁 𝗹𝗼𝘀𝗲𝘀 𝗼𝘃𝗲𝗿 𝗥𝟯𝟬𝟬 𝗺𝗶𝗹𝗹𝗶𝗼𝗻 𝗮𝘁 𝘁𝗵𝗲 𝗲𝗻𝗱 𝗼𝗳 𝘁𝗵𝗲 𝟮𝟬𝟮𝟭/𝟮𝟬𝟮𝟮 𝗳𝗶𝗻𝗮𝗻𝗰𝗶𝗮𝗹 𝘆𝗲𝗮𝗿 𝗼𝗻 𝟯𝟭 𝗠𝗮𝗿𝗰𝗵 𝟮𝟬𝟮𝟮.
The Department of Social Development (DSD) has failed to deliver on its promise to pay out the Presidency's Early Childhood Development (ECD) Employment Stimulus Relief Funds to over 108,833 ECD principals, teachers and other staff by the deadline DSD provided; the end of the 2020/2021 financial year - 31 March 2021.
The ECD sector was given three weeks to apply for the Stimulus Relief Fund (after fighting for an extra week). By the deadline 116,578 ECD workers had applied for the funds, but DSD has only paid 36% of the funds in the 11 months and 3 weeks since the deadline closed. Payments to over 70,000 ECD workers across South Africa from the ECD Stimulus Relief Fund are almost a full year late. This is a disgrace.
Despite numerous attempts, through protests and direct communication sent to the national DSD, there has been no substantial communication to ECD applicants from DSD about outstanding payments. The majority of applicants do not even know their application status. This requires urgent action on the part of DSD.
The department now has just over a month (28 working days) left to pay all outstanding ECD staff applicants before DSD loses over R300 million at the end of the 2021/2022 financial year on 31 March 2022.
As the verification and payment processes have seemingly now been moved from national DSD to the provincial offices; it is important for the minister to lead DSD to success in ensuring all ECD workers are paid in full, before losing the remaining R300 million in taxpayers' monies specifically designated for ECD workers.
Why is this important?
The delays in payment have resulted in hundreds of ECD centres buckling under the strain of Covid-19 and closing down as they cannot afford rent, electricity, nutrition for the children in their care, or staff salaries. Many staff members have had little to no income for almost two years, since the initial nation-wide lockdown in March 2020, and are struggling to put food on their tables and pay for basic needs – they truly require emergency relief funding.