To:

Department of Basic Education and Training
Undo the damage of rape culture promoting textbook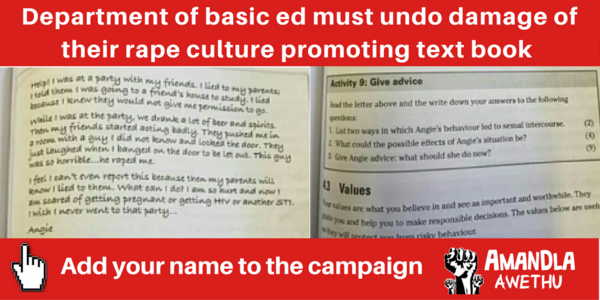 A photo of a page from a Grade 10 Focus Life Orientation Textbook has surfaced on social media. A scenario is described on the page in which a girl, Angie, lies to her parents and attends a party with her friends. She describes how she and her friends drank alcohol and that she was pushed into a room with a guy who raped her. She claims to be scared to tell her parents about the incident because she lied to them.
Three questions are listed below the scenario, the first of which asks: "List two ways in which Angie's behaviour led to sexual intercourse."
The scenario and the first question are clear and unacceptable examples of victim blaming.
While we welcome the swift response from the Department of Basic Education and Training (DBET) calling on the publisher to amend or remove the question [1], the textbook has been used for the last 5 years, meaning there is an entire generation that has been taught to blame rape victims. The DBET must commit to immediately engage all high school teachers and all students must be engaged on why this section of the textbook is completely wrong. The Department must undo the damage of the last 5 years and review their curriculum approval process. In addition, this section of the textbook must be immediately removed as we can't wait for the next edition.
[1] http://www.timeslive.co.za/thetimes/2016/07/27/Grade-10-text-book-outrage
Why is this important?
South Africa has one of the highest incidents of rape in the world. Teachers should not be put in a position where they are expected to stigmatise and victim blame rape victims.