To:

Minister Blade Nzimande, Deputy Minister Buti Manamela, Prof Ahmed Bawa (Universities South Africa), Council of Higher Education and all Vice Chancellors
Rethink the immediate roll-out of online learning by higher education institutions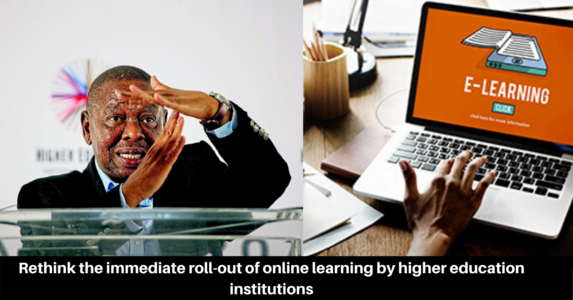 We, a group of concerned academics, civil society leaders, lecturers, university administrators, students and everyday people, appeal to you to consider our call to stop the immediate roll-out of all online teaching platforms by higher education institutions. Majority of students or staff from low-income backgrounds do not have the means to make this move right now. The response by privileged institutions like WITS and UCT to the COVID-19 pandemic not only exposes their disinterest in the collective educational development of the country but also creates a way of ensuring that historically black institutions and students remain undeveloped. These are not normal times, it cannot be business as usual at the expense of students who will be left behind.
Our full proposal is available here: https://bit.ly/public-universities-plan
Why is this important?
South Africa is currently under a COVID-19 lockdown which amplifies the harsh conditions that low-income communities are subjected to. Advantaged institutions of higher learning are adamant to continue the academic year as if these are normal times, despite the economical and environmental challenges that students & teachers from low-income communities face. Going online immediately will increase the existing inequality gap between Universities and TVET colleges as well as make learning impossible for the vast majority of students. Students who attend privileged institutions but come from low-income backgrounds find themselves at a disadvantage too. While some students have the means to study, the majority are left to learn in circumstances that make it impossible to do so.
We propose a different approach to structuring the academic year in three phases, with timelines that take into account the realistic capacity and provision of resources during the COVID-19 pandemic, considering the social restrictions and lockdown
Phase One: Open-dialogue with students, teachers and communities to collaboratively point out social and economic issues and to appropriately develop a curricula strategy for the delivery of a socially just programme.
Phase Two: Roll-out a supportive, student-centred and flexible learning process that will engage on (a) subject-specific knowledge that will be based on the existing curricula, (b) teaching and learning materials must be provided with the social effects and current the current crisis in mind, (c) Formative assessments.
Phase three: Return to campus-based teaching only when deemed safe. Sustain the material and experiences of Phase One and Two into the formal curriculum. Continue with the formative assessments and restructure summative assessments for fairness and academic integrity.
This is urgent and we the undersigned call on you to address this critical issue because we cannot have students who will progress in their academics while others who are disadvantaged are systematically placed at a position to fail.
This letter is ratified by the following contributors and endorsed by over 250 supporters from 16 post-school institutions:
Prof. Azeem Badroodien, University of Cape Town (UCT). Koni Benson, University of the Western Cape (UWC). Dr. Asanda-Jonas Benya, UCT. Crispen Chinguno, Sol Plaatje University. Prof. Zimitri, Erasmus, Wits University. Dr. Sarah Godsell, Wits University. Dr. Elina Hankela, University of Johannesburg (UJ). Mocke Jansen van Veuren, Wits University. Dr. Clint Le Bruyns, University of KwaZulu-Natal (UKZN). Dr. Mohamed Mathee, UJ. Prof. Sonwabile Mnwana, University of Fort Hare (UFH). Kharnita Mohamed, UJ. Cherry Muslim, UKZN. Dr. Lubna Nadvi, UKZN. Leigh-Ann Naidoo, UCT. Dr Yunus Omar, UCT. Dr. Fathima Peerbhay, UWC. Jane Quin, UKZN. Dr. Saajidha Sader, UKZN. Dr Saajidha Sader, UKZN. Dr. Fatima Seedat, UCT. Dr. Rubina Setlhare, UJ. Andy Smit, UCT. Dr. Natasha Vally, UCT. Dr Fikile Vilakazi, UKZN.