To:

National Treasury, Panel of Experts
24 hours to have VAT removed from more essential items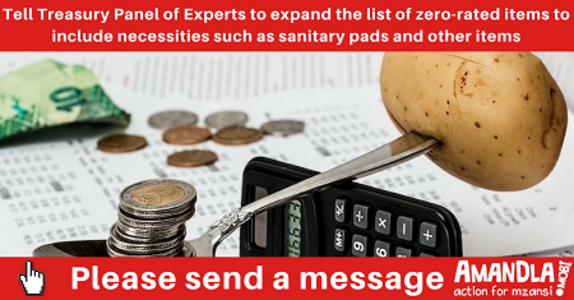 Expand the zero rated items as a short term measure, but to also push for long term, systemic interventions.
Why is this important?
Before the VAT increase kicked in on 1 April 2018, National Treasury had announced that it would set up a panel of experts to consider and review the country's current list of items that have been zero rated for VAT. We know that the VAT increase has hit the poor and those who rely on social grants, the hardest. National Treasury set up an independent expert panel to look into removing VAT from more items and is calling for submissions. But we have only 24 hours to do this. We can pressure government to review the current list of zero rated items so that we give some relief to poor households.
Currently, Mzansi has 19 basic food items on the zero rated list [1]. This includes dried beans, samp, maize meal, rice, milk, tinned pilchards, brown bread, eggs and vegetables, as well as illuminated paraffin. The zero rating does not apply to items such as sanitary products, soap, stationary, margarine and school uniforms to name a few. The poor cannot live off just 19 zero rated items. Many of our leaders seem to acknowledge that the VAT increase is a problem, and we can use this moment to continue to reduce the impact of the VAT hike on the poor, while working towards holding Treasury and Parliament to account.
[1] Zero-rated and exempt supplies, National Treasury website.
[2] https://www.news24.com/SouthAfrica/News/treasury-calls-for-publics-input-on-adding-items-to-zero-rated-vat-list-20180517