To:

University of Western Cape Financial Aid Office
Assist Students Depending on NSFAS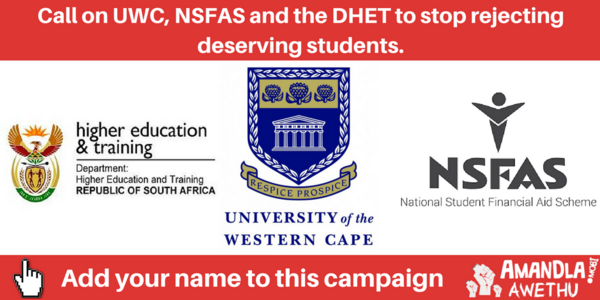 Assist qualifying students who depend on NSFAS finalise their registration for the 2017 academic year.
Why is this important?
The University of the Western Cape Financial aid office is deliberately declining NSFAS funding for senior students who have passed 50% or more of their 2016 modules. According to NSFAS website and press releases, all students who were funded in 2016 and have passed 50% or more of their 2016 modules qualify for funding. The University of the Western Cape is saying otherwise.
On 6 February 2017 Universities South Africa (USAf) issued a statement saying "students at all universities may be assured that notwithstanding the challenges experienced by NSFAS, the vast majority of students who qualify for grants will be able to register this week if they have not already done so." Fast forward to 21 March 2017 and there are confirmed cases of students at the University of Western Cape (UWC) and Durban University of technology (DUT) who are yet to register despite meeting the criteria to qualify for NSFAS.
According to a commitment made by NSFAS in 2017, all first-entry students who have applied for financial aid and who come from Quintile 1, 2 and 3 schools (least privileged schools) and / or where family income is dependent upon a South African Social Security Agency (SASSA) grant, qualify for financial aid. These students may, with minimal risk to universities, be admitted to the study programme for which they qualify (subject to availability of space), and also to a place of residence (subject to capacity considerations).
With regard to returning students, NSFAS has undertaken to support in 2017, all students who:
* Received financial aid in 2016;
* Satisfied the 50% module pass requirement;
* Satisfy the N+2 completion requirement; and
* Have signed their 2016 NSFAS loan agreement forms.