To:

School Principals, Local government officials, MPs, Women and Men
Campaign: #RISE one million signatures against sexual violence
Campaign starter unreachable on contact details provided to discuss further steps.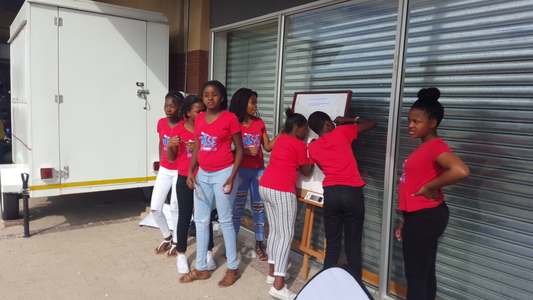 intensify strategies to end violence against women and girls.
women and men to make sure that the girl-child is safer in their homes, school, neighbourhood, community and broader society.
Why is this important?
Campaign: #RISE one million signatures against sexual violence "The list ends here"
Invitation Letter to sign a million signatures against sexual violence - the RISE's Advocacy Event in connection with Sinoxolo Mafevuka's rape & murder case - (24 Feb 2016)
This letter serves as an official invitation to support the RISE Young Women's Clubs Advocacy Campaign in Connection with Sinoxolo Mafevuka's rape and murder case by signing this petition. The purpose of the event is to take a stance together against sexual violence. At Soul City Institute, we value and appreciate your department's support in terms of creating safer communities where girls and young women in particular, are not affected by any type of sexual violence and/or its consequences. Hence we are indeed grateful. The event will be hosted by Soul City.
The event will consist of the following main activities:
#RISE one million signatures against sexual violence. Here the clubs (branded) will meet at the Khayelitsha mall and call out to the community members to sign a petition (on the poster –size papers) for no sexual violence against girls and women. This will take place on Thursday the 24th of March 2016 from 14h00 to 16h30.
Your signature is about taking action in ending sexual violence and amplifying the voices of survivors of sexual violence and those at risk of being sexually violated. Be part of this movement and make your voice heard.
This event is initiated by Soul City to eradicate sexual violence against women and girls in the Western Cape.
We look forward to a continuing partnership with you.
How it will be delivered
This petition will be delivered to the Khayelitsha magistrate court on the 20th April when Sinoxolo Mafevuka's suspects appear in court, Harare SAPS.