To:

Prof Adriaan van der Walt, Chair of the National Minimum Wage Research Commission, and Minister Thembelani Thulas Nxesi, Minister of Employment and Labour
Domestic, farm and EPWP workers must be included in the National Minimum Wage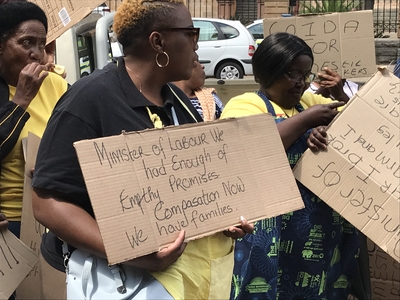 We call on you to recognise domestic, farm and EPWP workers as equal to all other workers and increase their minimum wage to R20/hr. We also call on you to ensure no employers are exempt from paying minimum wage.
Whilst we demand that all workers be brought up to an equal minimum wage for all workers, R20/hr is NOT a living wage in South Africa. Ultimately, the minimum wage for ALL workers needs to be increased to a viable living wage."
Why is this important?
These workers pay the same price for bread - and they deserve the same minimum wage! Domestic and farmworkers are some of SA's most vulnerable workers. 95% of domestic workers and 90% of farmworkers are living under the poverty line. Numbering almost 2 million, they are the largest part of South Africa's working poor. Yet many of them are primary breadwinners for their households.
The recent National Minimum Wage Law only reinforces this poverty by giving domestic workers R15/hr, farmworkers R18/hr, and EPWP workers only R11/hr -- while all other workers receive R20/hr.
Sign this petition and join the campaign calling on the National Minimum Wage Research Commission and the Minister of Labor and Economic Development, to increase minimum wage for farm, domestic and EPWP workers to the R20/hr. It is time for the National Minimum Wage Law to recognise domestic, farm and EPWP workers as equal to other workers.
The domestic and farming industries still treat workers as disposable, casual labor because of the legacies of colonialism and apartheid. Many of these workers have seen little change in their working conditions since 1994. They work behind closed front doors and locked farm gates, hidden from labour inspectors. They often face terrible living conditions, illegal terms of employment, poverty wages and outright physical and sexual abuse.
By granting them only a portion of the minimum wage, we further reinforce their status as second-class citizens and informal workers. This allows employers to continue to exploit them, and reinforces the cycle of generational poverty.