To:

Minister of Social Development, SASSA, Net 1, Cash Paymaster Services (CPS), Grindrod Bank and the Constitutional Court
Hands Off Our Grants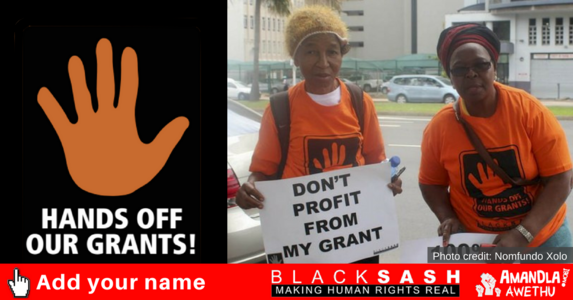 The Black Sash led Hands Off Our Grants (HOOG) Campaign calls for:
• The Constitutional Court to supervise any contract Sassa and CPS enter into to ensure grant recipients are protected.
• The creation of a special and protected SASSA bank account;
• Improved implementation of SASSA's recourse system;
• Refund disputed deductions with bank charges and interest backdated to 2012; &
• The protection of personal and private information of all in the social grant system.
Why is this important?
Ma Grace, a pensioner from Makwassie in the North West province, experienced airtime deductions from her SASSA account despite her not owning a cell phone. In February 2014, Minister Dlamini ordered SASSA to refund Ma Grace for these monthly airtime deductions.

Mr Bani, a pensioner from Nyanga near Cape Town, received a partial refund for unauthorised & unlawful loans deductions from INFAJFIN in Uitenhage, Eastern Cape after months of seeking recourse.
But there are still scores of beneficiaries who are struggling to register their recourse complaint, let alone enjoy the benefit of a refund!
In May 2016, in a decisive move, the Minister of Social Development issued new regulations to stop the tide of unauthorised and unlawful debit and other deductions from the SASSA bank account. But in June 2016, Net1, a few of its subsidiaries and other commercial companies took DSD and SASSA to court in four legal cases.
The Black Sash and six co-applicants asked the court to order that the Minister publish regulations to protect social grants from exploitation if: (a) DSD and SASSA's interpretation is correct; and (b) that the interpretation renders the new regulations unconstitutional. Government should be given the opportunity to fix the new regulations, if defective, to protect vulnerable beneficiaries from predatory and unscrupulous financial and other third party service providers.
Finally, we note the Constitutional Court order in April 2012 that SASSA must lodge a report within 14 days, of not awarding a new tender, "on whether and when it will be ready to assume the duty to pay the grants itself" (in-source). In November 2015, SASSA submitted a plan to ConCourt with clear deliverables & timeframes for taking over payment of grants by the end of the CPS/SASSA contract in March 2017. We are closely monitoring SASSA's progress in this regard.