To:

To the MEC of the Department of Basic education Panyaza Lesufi.
Improper infrastructure is affecting the quality of ECD education in the Gauteng Province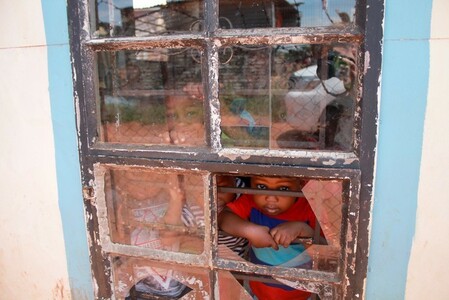 A Compliance body that will assist and work with existing and operating informal ECD centres comply with infrastructure standards.
Why is this important?
I have had the opportunity of working with an Early Childhood Development (EDC) centre situated in Freedom Park. The owner was a dedicated strong woman who exhausted all her resources to ensure a safe haven for the children regardless of how poor her facility was. Her distress was that she had been operating an unregistered crèche for three years and her one need was to find someone to meet her half way in order for her to fix the infrastructure to qualify for certification. As this was an urgent matter and the children were at risk; we worked tirelessly to secure sponsorship by approaching different corporates. At the end of six months, we had succeeded and the ECD facility was child friendly, complied with the requirements and they were successful in registering.
This ECD centre , was like the many others which are currently operating without proper infrastructure. Fortunately for this one funding was awarded; other ECD centres take years to receive funds or to even raise enough finances for important resources. In fact; within the Gauteng province alone, the Department of Social Development has identified 1100 ECD centres that are unregistered [1]. It has almost become a way of life that individuals within the community will establish a business of an unviable ECD facility with good intentions of servicing the community. This however doesn't move away the fact that the facility still endangers the lives of children and that there's high risks.
It is unfortunate that; even with the President's promise of quality early childhood education during the 2019 State of Nation Address [2]. These promises will never be realised if there's infrastructural problems hindering the realisation of quality education services. At the forefront of the Department of Social development's plan to register ECD centres lies the requirement that an ECD centre, in order to be eligible for educator training, funding and benefits; must meet infrastructural requirements on the time of its registration.
Yes, the government does provide an operational subsidy of R15 a day per pupil but the subsidy is restricted to facilities that comply with the norms and standards on its infrastructure [3]. Which means that those children in the most disadvantaged communities do not even benefit from this.
Barbara Stemment head of Early childhood development at Ikamva Labantu states that "it is not that people don't want to register but they don't because they cannot afford to meet the infrastructural requirements set by the department [4]." She further explains that if the ECD centre shuts down; then where will those children go?
Therefore, it is unfair to expect informal ECD facilities to meet infrastructure requirements when there is no identifiable government programme/subsidies for financing the construction or upgrading of facilities. It is key to note that the government has abdicated itself from financing the infrastructure that serves as a basis for accessing the operational subsidy and this proposes a problem. With the new changes on early childhood development education having had migrated to the Department of Basis Education; the question is: how will quality education be realised if there are infrastructure challenges already crippling the basic education system? And how will unregistered ECD centres due to infrastructure challenges be incorporated into the government's current infrastructure improvement plans?
This year marks the 20th celebration of National Child Protection week in South Africa. An annual campaign of the South African government to promote a culture of respect for children's rights and an awareness of child safety [5]. However, if early childhood development programmes are performed in poor facilities then the safety, stimulative and quality learning is not achieved. Can we then say that as citizens we've made it our duty to protect and create a safe and secure environment for children in informal crèches?
While the commitments of the government to introduce a two years compulsory ECD programme were welcomed as great improvements at the 2019 State of Nation Address; seriousness will only be realised if at the heart of the Department of Basic Education 's budget allocation is a share dedicated to a body that will specifically be targeted at early childhood development and tackling the infrastructure dilemma costing the success of the quality of education. Therefore, the department's interventions should include Infrastructure challenges of unregistered ECD centres and helping these facilities be compliant. The first six years of a child's life are of paramount importance and in order to realise quality education for any child requires quality facilities and we ought to always remember this.
Words to remember : "There can be no keener revelation of a society's soul than the way in which it treats its children."- Nelson Mandela.
• ECD Centres – Early Childhood Development Centres.
• DSD- Department of Social Development
• DBE- Department of Basic Education
• MEC – Member of Executive Council
• Joburg Metro- City of Johannesburg Metropolitan Municipality
References:
[1] "Over 1,000 unregistered crèches in Gauteng,eNCA, 5 April 2019 https://www.enca.com/news/over-1000-unregistered-creches-gauteng
[2] SONA gives hope for early childhood development, David Harrison, 11 February 2019,
https://www.iol.co.za/pretoria-news/sona-gives-hope-for-early-childhood-development-19237438
[3] Obstacles for ECDs , Jess Drewett, 30 April 2018, http://livelihoods.org.za/2018/04/30/obstacles-for-ecds/
[5] Barbara Stemment , ikamva labantu, 18 December 2019, https://ikamva.org.za/
[4] Child Protection Week 2019, South African Government, https://www.gov.za/ChildProtectionWeek2019
Picture: https://www.groundup.org.za/article/raising-south-africa-informal-creches-are-desperate-aid/
How it will be delivered
The channels which I plan to deliver the petition will be through the following:
- Facebook
- Whatsapp where I share the link to the petition
-E-mail