To:

Indian Prime Minister Mr Honourable Narendra Modi
Indian Civil Society under attack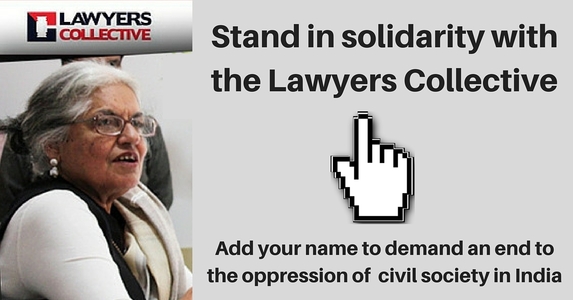 On the occasion of your visit to South Africa on 8 July 2016, we the below signatories from South Africa join the global call for you to:
- Immediately lift the suspension order against the Lawyers Collective.
- We strongly urge you to reverse its decision and embrace the invaluable contribution of the two prominent human rights defenders in upholding constitutional values in India.
- We call upon you to lift the order suspending the Lawyer's Collective's license to receive foreign funds and to ensure the organization is provided the freedom and space to continue its work in advancing the rights of the most vulnerable and marginalized sections of society, in conformity with the Constitution of India.
Fulfilment of these demands will ensure a safe and enabling environment for human rights defenders and civil society, who play a critical role in holding the Government to account and buttressing the Indian democracy.[1]
Why is this important?
Lawyers Collective is a well-respected legal organisation that advances human rights in India, including women's rights, the rights of people living with HIV and the right of access to affordable medicines. Lawyers Collective plays an important role in advancing the constitutionally-entrenched rights of the most vulnerable and marginalised sections of society. A number of key civil society organisations in South Africa have worked with Lawyers Collective for many years to advance the rights entrenched in the South African Constitution, including important work to promote non-discrimination and protect the human rights of people living with HIV.
Lawyers Collective has been absolutely instrumental in ensuring that the environment that enables India to continue to be the Pharmacy of the Developing World is maintained, even in the face of serious external pressures on India to deviate from its historical pro-public health stance. Through its work, vulnerable people in both India and South Africa (among others) have had access to life-saving medicines that they would not otherwise have been able to afford.
[1] "Human rights defenders and civil society must have the ability to do their important job without being subjected to increased limitations on their access to foreign funding and the undue suspension of their registration on the basis of burdensome administrative requirements imposed to those organizations in receipt of foreign funds," the UN human rights experts concluded. - See more at http://www.ohchr.org/EN/NewsEvents/Pages/DisplayNews.aspx?NewsID=20112&LangID=E#sthash.eHvoNyDl.dpuf
How it will be delivered
The letter will be delivered to a representative of the Consulate General of India during a picket on Thursday 7 July at 14h00. Please attend the picket and invite your networks to offer their support.
Venue: 1 Eton Road, Parktown