To:

Mr Michael Masutha, Minster of Justice and Constitutional Development
Oppose bail and issue maximum sentence for KFC assault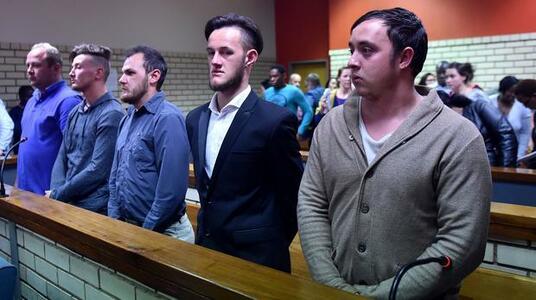 Deny bail to the accused and ensure that they get a harsh sentence for their racist and savage attack on Jacob and Dudu Sono.
Why is this important?
Jacob and Dudu Sono, the victims, were assaulted when they asked the driver of the car in front of them to move forward in the drive-through. The five men named Stephan Nel, 39, Marius Harding, 23, DJ van Rooyen, 21, Ockert Muller, 20, and Joshua Scholtz, 21, had ordered and were supposed to fetch their food at the next window. In the video [1], the attackers could be heard swearing at Jacob and his wife.
The men face charges of attempted murder, assault with intent to do grievous bodily harm and pointing a firearm [2]. One of the accused, Ockert Muller, has already been granted bail while Marius Harding, who already has previous assault convictions, has abandoned his bid for bail.
Incidents of assault across racial lines have been frequently reported on in the media, and unless we send out a strong message of condemnation, they are likely to keep happening. The Coffin Assault incident, which is currently before the courts, is evidence that perpetrators of these incidents are racist and not remorseful for their actions.
Deny bail and give a very harsh sentence to deal with these perpetrators.
[1] https://twitter.com/tumisole/status/893486622708084742 WARNING: Graphic Content
[2] #KFCAssault: Here are the accused, Sakhile Ndlanzi for Independent News. 11 August 2017.