To:

President Cyril Ramaphosa
Pres. Ramaphosa must use presidential pardon to #FreeMartha now!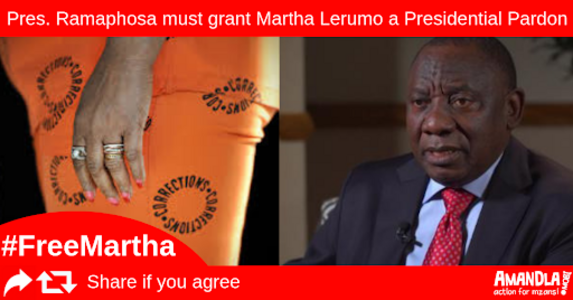 Dear President Ramaphosa,
You declared gender-based violence a national crisis. You also noted the rising rates of violence on women's bodies in the country yet rape convictions still remain low. Now is the time to take action and make the system work for women and all survivors of GBV.
Our constitutional law is founded on the following values: the growth of human dignity and the promotion of human rights and freedoms [3], yet far too many survivors like Martha have been let down by the judicial system when they have tried to get justice and to keep themselves safe.
As a sign of commitment to ending the violence, we call on you to give Martha Lerumo a presidential pardon and #FreeMartha now.
Why is this important?
Martha Libuseng Marumo is a survivor of domestic violence. She spent many years of her marriage trying to keep herself safe from her sexually and physically abusive husband. After years of trying to get help from the police to escape this violence, Martha was told by them that they could not help her because "it is a family matter" [1].
In the end, after many attempts to free herself she took the law into her own hands and killed her husband. In 2005 she was given a life sentence for killing her husband in defense of herself and her children. She recently shared details of her story at the National Gender-based Violence (GBV) summit on how her husband would beat her, force himself on to her, and take away her agency as a woman. Martha's story isn't unique but is one of many tragic examples of how the justice system fails women, and other survivors of gender-based violence.
Everyday women interact with this unjust system when they try to escape violent and abusive situations. Enough is enough! A recent police report also showed that 59% of South Africans feel dissatisfied with the courts [2]. Our country needs to fix this system that stigmatises survivors and lets perpetrators walk free. It's time that the judicial system chooses a side: does it care about survivors or does it protect perpetrators?