To:

President Cyril Ramaphosa
Ramaphosa, appoint Arts Minister from civil society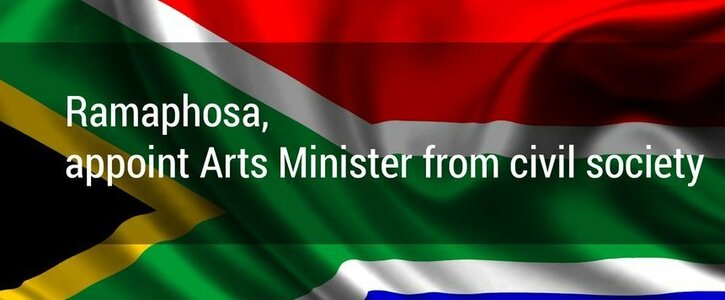 President Ramaphosa, appoint Arts Minister from civil society
Why is this important?
Dear President Ramaphosa
We are active participants in South African public life who nurture and cherish Arts and Culture. It is our belief that arts and culture is the lifeblood and soul of our country and should play a pivotal role in building unity and cohesion in our diverse society.
We are painfully aware that over the past few years the arts and culture portfolio has not been managed by competent and passionate champions of the arts, but rather used to appease political factions and balance constituency interests in the ANC. This has, regrettably, rendered arts and culture to the 'fringe' of political life and public interest.
It worries us, when looking at the strong delinquent elements in the ANC list of candidates, that, once again, the Minister of Arts and Culture will likely be a compromised ANC member, to the detriment of our people and our country. This is often complemented by an equally poor choice of Director General in the Department.
The frustration in the arts community is palpable. Our once celebrated arts and culture have been plagued by inadequate support, inaction and lack of a clear vision on how to take this important community, at the heart and soul of our country, into the new dawn you speak about.
South African artists, musicians, cultural activists, arts institutions, NGOs, Foundations and many ordinary citizens call on you, Mr President, to appoint a credible new arts and culture minister from civil society who is respected by the arts community.
The Constitution allows the President to appoint at least two cabinet ministers from outside the political party framework. Thus, an opportunity presents itself to signal to the public that your new cabinet will go beyond narrow party interests, but focusses on national unity, nurturing the arts and celebrating our deep well of heritage.
Arts and culture offers the opportunity to be the 'ties that bind' us in a society that has seen the fragile unity of our people severely eroded. Please hear our plea for the appointment of a non-party cabinet minister, drawn from civil society and from among the many sterling champions of arts and culture in South Africa.
We are solely motivated by our commitment to strengthen our rich heritage and build the 'unity in diversity' that our Constitution and national 'Coat of Arms' demands of all our people.
Supported by:
Zolani Mahola, Zelda Holtzman, Zapiro, Wouter Gildenhuys, Vusi Mahlasela, Vinette Ebrahim, Vicky Sampson, Tina Schouw, Thami Mbongo, Sifiso Kweyama, Shihaam Domingo, Ronnie Govender, Riaad Moosa, Renee Roux, SabaZahara HoneyBush, Patric Taric Mellet, Neeran Naidoo, Ncebakazi Mnukwana, Nadia Mason, Mike van Graan, Michelle Robertson, Michael Weeder, Merle Grace O'Brien, Marilyn Martin, Melanie Steyn, Mansoor Jaffer, Mamphela Ramphele, Malika Ndlovu, Maishe Maponya, Kurt Egelhof, Kevin Patel, Koketso Sachane, Kay Jaffer, James Dryja, Ivan Lucas, Hilton van Niekerk, Heinrich Gerwel, Hanief Tiseker, Greg Schaik, Glenn Robertson, Gavin Younge, Frank Meintjies, Flamenco Maestro, Eunice Basson, Ernestine Deane, Enver Larney, Elinor Sisulu, Denise Newman, David Max Brown, Clive Newman, Clarence Ford, Bongiwe Dhlomo-Mautloa, Bienyameen Camroodien, Annemi Conradie, African Musicians Trust.