To:

Presidency, South African Government
Release Leigh-Ann Naidoo and the women on the Zaytouna boat to Gaza
Leigh-Ann Naidoo has been released.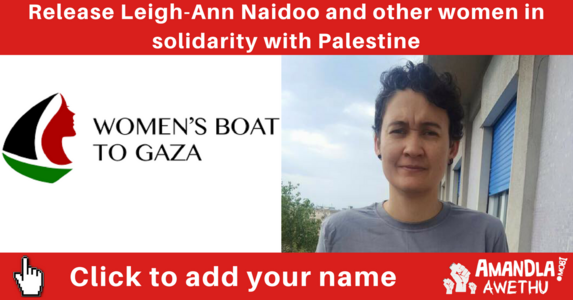 We, the undersigned, call on Israel to release Leigh-Ann Naidoo and the women captured on the Zaytouna boat to Gaza. We are aware of the interception by Israel of the Women's Boat to Gaza (WBG) – a group of women who are sailing in an attempt to break the illegal Israeli blockade on the Palestinian Gaza Strip.
Why is this important?
https://www.youtube.com/watch?v=wTnmlENu_20
From past Israeli interceptions the possibility of a violent military attack as was experienced by the Mavi Marmara flotilla in 2010 is a reality.
It is deplorable that despite the loss of lives resulting from Israel's unlawful piracy in international waters, the Israeli regime has once again repeated its criminal conduct [1]. By the same token, it is inexcusable that the United Nations and its Security Council have failed to warn Israel not to proceed with its threat to attack the WBG.
We as signatories are deeply concerned that these peaceful women activists on board the Zaytouna and their non-violent mission to break the illegal Israeli blockade, face such an unprovoked and unwarranted interception. The WBG is a solidarity mission to occupied Gaza and has no intention of entering Israel illegally.
We find it unacceptable that despite these public threats by Israel, and notwithstanding the fact that one of the volunteers on board is a South African citizen, Leigh-Ann Naidoo former Olympian and activist, the Department of International Relations (DIRCO) remains silent.
We therefore call on the SA Presidency to urgently take steps to ensure the safety of all the women on this mission, including Leigh-Ann Naidoo. It is imperative for the SA government to provide the necessary protection for its citizen.
The WBG is an admirable effort by brave women from various countries to set sail across the Mediterranean to Gaza, in a peaceful attempt to break Israel's illegal blockade.
The international community, including the ANC-led government, must step in to prevent Israel from carrying out such crimes against humanity, crimes which it frequently commits with complete impunity.
Names of women who were on the 'Women's Boat to Gaza'::
Mairead Maguire, Ireland
Marama Davidson, New Zealand
Jeannette Escanilla, Sweden
Samira Douaifia, Algeria
Leigh-Ann Naidoo, South Africa
Madeleine Habib, Australia
Ann Wright, United States
Hoda Rakhme, Russia
Dr. Fauziah Hasan, Malaysia
Mina Harballou, United Kingdom
Sandra Barrilaro, Spain
Synne Sofie Reksten, Norway
Emma Ringqvist, Sweden
[1] https://www.middleeastmonitor.com/20161005-breaking-reports-israel-stops-womens-boat-to-gaza/#.V_UYIKQSY61.twitter
Women's Boat to Gaza South Africa
Palestine Solidarity Alliance
Palestine Solidarity Campaign
BDS South Africa
South African Jews for a Free Palestine – SAJFP
National Coalition 4 Palestine #NC4P
Media Review Network – South Africa
University of Johannesburg Palestine Solidarity Forum – UJ PSF
Right2Know Campaign
Palestine Solidarity Alliance Youth League
MSA Union