To:

The President and Health Unions
Urgently restore safe access to healthcare and medicines in North West Province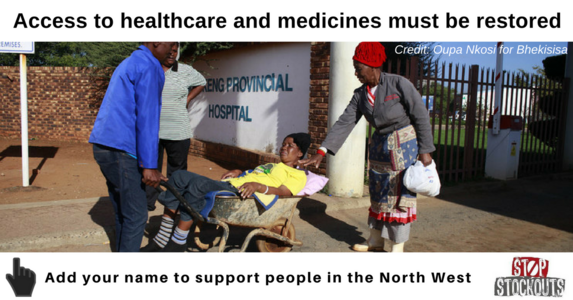 Restore access to health services in North West Province by:
- Ensuring that medication reaches health facilities
- Stopping the threats to healthcare workers going to work
Why is this important?
On Thursday health workers at the Mahikeng Provincial Hospital phoned families to come collect patients, some without medication [1]. Healthcare workers reported being threatened when reporting to work which forced even the emergency rooms to be shut down. And this isn't just happening at one hospital. Across the province health facilities haven't been functioning normally, either due to the lack of medicines or the lack of staff. This has led to many people not receiving medical care in many other hospitals and clinics.
Whether in times of peace or in times of crisis, healthcare personnel should not be obstructed and hindered from accessing those in need of healthcare. Deliveries of medicines should be allowed to reach facilities.
As the political solution to the crisis is being negotiated we call upon all relevant parties to urgently restore access to health services and medicines in North West Province.
Please add your voice, and call on people in your networks to add theirs too. If enough of us come together, we can help make sure that lives are saved by restoring healthcare services.
We will seek to meet with the Government and Health Unions this week and your Voice matters!
The Stop Stockouts Project (SSP) is a consortium of six civil society organisations (TAC, SECTION27, MSF, RHAP, SA HIV Clinicians Society, RuDASA) dedicated to assisting the thousands of people whose lives are threatened by the chronic shortages of essential medicines and children's vaccines in South Africa. The project was established in 2013, following the Mthatha depot crisis in the Eastern Cape in 2013.
[1] http://bhekisisa.org/article/2018-04-19-the-price-of-suora-mahumapelos-defiance
[2] https://www.spotlightnsp.co.za/2018/04/23/north-west-doctors-release-open-letter-calling-end-closure-health-services/
This project is funded by the European Union. The views reflected in this publication do not necessarily reflect the view of the European Commission.
How it will be delivered
Signatures will be delivered in person to the National Department of Health;
The Office of the President of South Africa; and
The Congress of South African Trade Unions