To:

Fees Commission, the Presidency and the Department for Higher Education
Send a message to the Fees Commission*
The period for sending submissions lapsed.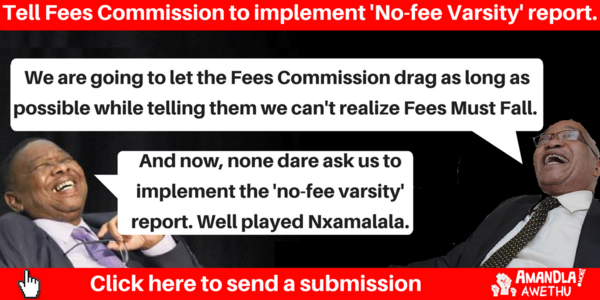 We call on you to immediately implement the recommendations of the 'No-fee Varsity' report commissioned by Minister Nzimande and handed to him four years ago.
We are extremely disappointed that the response to the Fees Must Fall movement is yet another long drawn out expensive bureaucratic process while we struggle to get an education. If Minister Nzimande had publicly released the No-fee Varsity Report in 2012, and implemented it's recommendations, millions wouldn't have been denied an education or forced into crippling debt.
Why is this important?
Our leaders had a year to meet the demands of Fees Must Fall, and they have failed. But we have an opportunity to change this. This time last year we didn't have the 'no-fee' varsity report released, or had commitments from government to address illicit financial flows, but this year we do. That's why we are calling for Minister Nzimande to stop stalling and implement his own no-fee varsity report, and for Minister Gigaba to commit at least 1% of Mzansi's GDP to higher education.
In October 2015, thousands of amandla.mobi members rallied together and forced Minister Nzimande to release the No-Fees Varsity Report. The report sets out 12 recommendations showing how free university education for students from low income households can be provided [1]. This affirms the demands of the student movement collectively known as 'Fees Must Fall' and proves that the Minister can take decisive action to put an end to financial exclusion in higher education.
Since the release of the report we have been pushing to shift the public debate towards calls for Minister Nzimande to progressively implement the recommendations of the report. The time to stop overlooking us has come! Academics have spoken out on the chronic underfunding of Mzansi's universities [2]. In fact, Mzansi's government spends below the continent's average on higher education, at 0.75% of its GDP. The proportion of GDP for Senegal and Ghana is 1.4% [3].
Mzansi's higher education budget for the 2015/16 financial year is R30 billion. If the government were to spend 1% of GDP on higher education, this would amount to R41 billion. That's almost four times the reported shortfall caused by 2016's freeze on fee increases [3].
The recommendation by the Department of Higher Education and Training that university fees for 2017 should not be increased by more than 8% is in stark contrast to the events of last year where the government instructed universities on what to do. It is an open invitation for universities to determine what margin they increase fees by, provided that they remain within the Minister Nzimande's recommendation. We need to shift the focus back to addressing the chronic underspending on the country's universities.
[1] It's a national crisis, academics tell Nzimande, News24. Oct 22, 2015.
[2] Free education is possible if South Africa moves beyond smoke and mirrors, Salim Vally for The Conversation. Sep 21, 2016.
* The information you submit will be sent to the Fees Commission, the Presidency and the Department for Higher Education.