To:

Vice Chancellor of Rhodes, Sizwe Mabizela and The Minister of Higher Education and Training, Naledi Pandor
Stop #RhodesWar on Womxn Activists Now!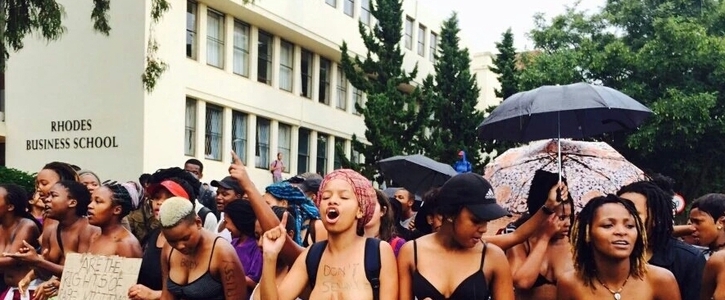 1) The University Currently Known As Rhodes (UCKAR) must immediately allow for the internal review of the proceedings and sanctions of Yolanda Dyantyi, Noxolo Mfocwa, Naledi Mashishi and Dominique McFall who have been victimised by the university and have received harsh, disproportionate and possibly even unlawful treatment thus far.
2) UCKAR must immediately begin a process of review for all students excluded as a result of protest action in 2015 and 2016 including an amnesty process.
3) The report produced by the Task Team on Sexual and Gender-based Violence over a year ago must be released and circulated to students immediately and the recommendations to end Sexual and Gender-based Violence must be implemented as a matter of urgency
4) The Minister of Higher Education and Training must intervene on the question of unlawful and unjust suspensions and expulsions of student activists at universities.
Why is this important?
#RhodesWar has been trending since Monday, 11 December, as the public became aware of two female students banned for life from UCKAR because they participated in anti-rape protests in April 2016.
The outrageous treatment of student activists at UCKAR who are being systematically excluded and victimized for bringing attention to the failures of management to address the flagrant rape culture on that campus can not be tolerated. We must make sure that womxn activists are not punished for speaking out, taking action and challenging patriarchy in institutions of higher learning and elsewhere.
Further this latest attack on student activists represents a wider trend where student leaders are being pushed out of universities for daring to challenge patriarchy, capitalism and calling for decolonised education. These limits placed on hard-won democratic freedoms like the right to protest must be challenged. We must fight for the students who risk everything to fight for us!