To:

President Cyril Ramaphosa, Minister Aaron Motsoaledi,Minister Ronald Lamola,Minister Bheki Cele
Demand President Ramaphosa Display Ethical Leadership and #StopXenophobiaNow!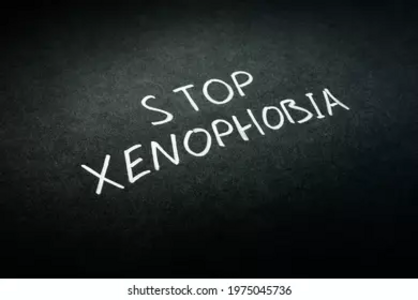 We call on all government officials, parliament and all politicians to display ethical leadership and act to stop xenophobia now.
We demand the following:
—Arrest and charge the ring-leaders and their followers for committing unlawful acts against non-locals—hate speech, verbal and physical threats, illegal evictions, illegal labour inspections, damage to property, violence, etc.; parliament must also sanction the politicians involved in these crimes for contravening their oaths to serve the Constitution
—Government officials, politicians, parliament and state institutions must protect rights for all at all times
—Government must stop scapegoating non-locals for its poor governance, corruption and party in-fighting; the State President must place non-locals under his protection amidst the current rise in xenophobia and right-wing, fascist tendencies
—Chapter 9 institutions must visibly and effectively step up their oversight role for rights protection
—Police, other law enforcement agencies and private security companies must stop targeting poor/working class people, including non-locals and those undocumented
—Government must ditch its neoliberal policies, corruption and mismanagement which lead to steep inequalities and social tensions
—Government must prioritize a basic income grant of R1 500 p/m for all those aged between 18 and 59 years who are without an income, and it must create gainful work with fair pay and working conditions that provides dignity to all
—Home Affairs must issue documents to asylum seekers, refugees and migrants efficiently, and implement proper integration policies
—Politicians, their followers and social groups must channel their grievances non-violently via legitimate processes and structures, including regarding jobs and other economic opportunities
—Civil society, Chapter 9 institutions and government must collaborate to educate the public about rights and responsibilities regarding asylum-seekers/refugees/non-locals/migrants as well as conflict management to address contentious issues among groups.
Why is this important?
South Africa is a signatory to various conventions that protect the rights of asylum seekers, refugees and migrants and is obliged to observe these. Our constitution also guarantees rights and
protection for all living in the Republic.
Government stringencies and social vigilantism against non-locals minoritize this group, and leads to increasing discrimination, violence, injury and loss of lives in communities. 
 
Poorly addressed socio-economic inequalities by government and politicians promotes vigilantism and erodes or moral-social conscience, damaging rights protection.
As freedom-loving people, we must make it clear we will not accept harm directed at migrants, or any group being minoritized, which government is enabling.
Xenophobes, fascists and right wingers must know we will fight them. We reject their shameful discrimination, domination and violence pretending at social and economic transformation.
In demanding social justice based on equality and human rights for all, we wage a struggle in its most essential and admirable form.
Please add your signature to PROTECT THE RIGHTS OF ALL PEOPLE LIVING IN THE REPUBLIC--NOW!