To:

PepsiCo, the parent company of Simba
Support the striking Simba workers!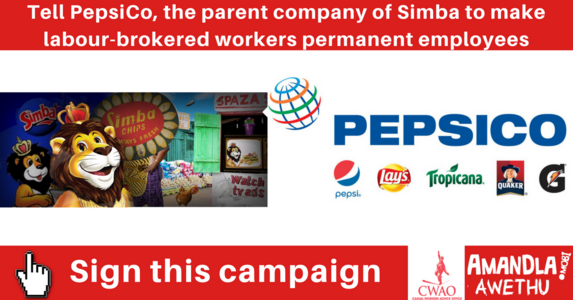 Make labour-brokered workers permanent.
Why is this important?
As labour-brokered workers under Adcorp Blu, their core demand is to win their right to be made permanent workers of Simba, with better wages and benefits. Parliament changed section 198 of the Labour Relations Act in 2015 to give labour-brokered workers the right to become the permanent employees of the client companies after three months of work.
'The majority of us workers are women,' said worker leader Nthabiseng Shai. We want to be Simba people, but we still say Simba must fall!'
The workers are fed up with the way Simba has mistreated them to dodge and undermine the right the law gives them. 'Some of us have been working here for more than five years,' explained Shai. 'They don't want to make us permanent. They are changing us from a labour broker to another, from Adcorp Blu to FunxionO.'
The workers decided to strike when Simba again changed their employment contracts without consulting them.
The Simba Workers Forum is calling on the public to support them.
Please contact PepsiCo, the parent company of Simba, and tell them to give the workers permanent jobs:
Call the toll free number 0800980063
This campaign is in collaboration with the Casual Workers Advice Office