To:

Jean-Francois van Boxmeer chairman of the executive board and CEO of Heineken International
Tell Heineken to stop abusing labour broker workers in South Africa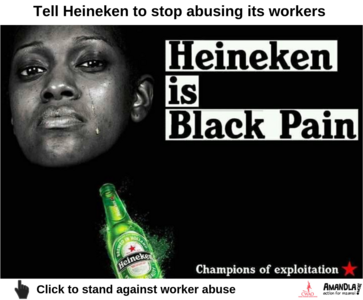 We are calling on Heineken CEO and board chairman Jean-Francois van Boxmeer to rehire the 55 workers, who were dismissed from the Heineken brewery in Sedibeng, as permanent Heineken staff with living wages. Heineken must also stop exploiting their workers by ending the practice of using labour brokers.
Why is this important?
(For those who are Dutch speakers there is a translation of the below text into Dutch at the end of the English text)
A total of 55 workers were recently dismissed from the Heineken brewery in Sedibeng, South Africa. The workers were employed through labour brokers to do jobs such as sorting and packing. Some have been earning less than R4500 per month and they all earn only 20-25% of what their co-workers who are directly employed by Heineken earn. These workers have been working under, what they call 'slavery conditions'.
Gladys Thaane who worked at Heineken brewery in Sedibeng for 9 years before being dismissed says, "They keep us in a state of being unsure and anxious all the time by moving us from labour broker to labour broker. I worked under five different labour brokers while doing the same job of packing and sorting for Heineken. This is their way of keeping us away from decent wages and rights. For us women it is so bad. We suffer from long periods (menstruation), back pains and breast problems but we cannot say anything because we are not sure we'll have a job the next day. The managers even target us for sexual harassment. Now when we claim our rights they chase us away."
The workers were accused of participating in an 'illegal gathering' and 'breaking labour laws' by the labour brokers who employed them. This despite the fact that there is no concept of an 'illegal gathering' in South Africa's laws. The workers took part in a legal protest in their time off against someone other than their official employer which means there was no way they broke labour laws. The workers were part of a group that visited Heineken's head office in South Africa and tried to meet with the company. These workers were victimized for simply fighting for their basic rights.
This hardheaded response of Heineken is consistent with how it reacted to all efforts of the labour broker workers to improve their conditions and claim their rights over the last few years. The company only acknowledged the workers and their struggles when there was public pressure on Heineken to treat its workers fairly.
We demand that Heineken immediately rehire these workers with permanent employment and living wages.
Bij de Zuid Afrikaanse Heineken brouwerij in Sedibeng zijn onlangs in totaal 55
werknemers onslagen. Zij waren in dienst als uitzendkrachten en verrichtten taken
als flessen sorteren en kratten vullen. Sommigen verdienden minder dan 300 euro
per maand. Uitzendkrachten verdienen slechts 20% tot 25% van wat werknemers
verdienen die direct bij Heineken in dienstverband zijn.
"Mijn naam is Gladys Thaane. Ik werk al 9 jaar bij Heineken Sedibeng en het is al 9
jaar een worsteling. We zijn constant bezorgd en onzeker op het werk omdat we van
uitzendbureau naar uitzendbureau worden geschoven. Ik heb voor 5 verschillende
uitzendbureaus gewerkt terwijl ik dezelfde baan had: flessen sorteren en kratten
vullen voor Heineken. Dit is hun manier om ons weg te houden van degelijke
betaling en onze rechten. Voor ons vrouwen is de situatie heel slecht. We lijden aan
erge menstruatieklachten, rugpijn en borst problemen, maar we kunnen niets
zeggen omdat we niet zeker weten of we de volgende dag nog een baan hebben.
Vrouwen zijn zelfs het doelwit van sexuele intimidatie door managers. Wanneer we
voor onze rechten opkomen, worden we weggejaagd. Maar we gaan niet weg. Help
ons alstublieft om gerechtigheid te krijgen door deze petitie te tekenen."
De ontslagen werknemers worden door de uitzendbureaus beschuldigd van 'illegale
samenkomst' en het 'overtreden van arbeidswetten'. In de Zuid Afrikaanse wet
bestaat echter geen concept als 'illegale samenkomst'. Daarnaast namen de
werknemers feitelijk deel aan een legale bijeenkomst, in hun eigen tijd, bij een
bedrijf dat officieel niet hun werkgever is. Dit betekend dat de uitzendkrachten niet
in een positie waren om arbeidswetten te overtreden. De ontslagen werknemers
zijn onderdeel van een groep die het hoofdkantoor van Heineken in Zuid Afrika
bezochten in een poging een ontmoeting met het bedrijf te bewerkstelligen. De deur
van het Heineken kantoor bleef echter dicht.
Deze koppige reactie van Heineken is consistent met eerdere reacties van de
multinational in de afgelopen jaren op de pogingen van de uitzendkrachten om hun
situatie te verbeteren en hun rechten op te eisen. Slechts wanneer er publieke druk
is uitgeoefend heeft het bedrijf gereageerd op de werknemers.
Uw handtekening is van groot belang om Heineken te dwingen de, volgens de
uitzendkrachten, "slavernij omstandigheden" aan te pakken.
Eis dat de onterecht ontslagen uitzendkrachten direct hun baan terugkrijgen,
permament bij Heineken in dienst komen en fatsoenlijke lonen betaald krijgen!