To:

Ambassadors of Australia, Japan, Canada, Germany, Norway, Singapore, Switzerland & the United Kingdom and CEOs of Pfizer, Johnson & Johnson, Moderna, AstraZeneca
Tell these rich countries + companies to put people before profit by pausing patents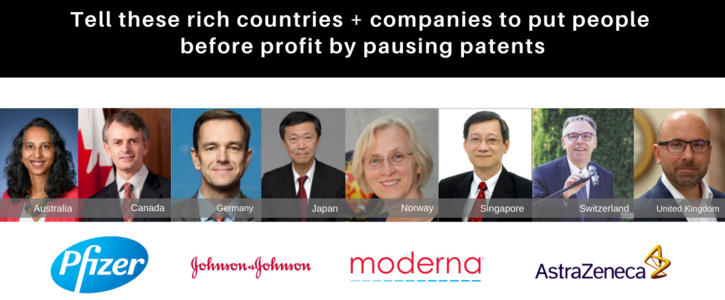 People are dying and the world is not manufacturing vaccines fast enough. But at the World Trade Organisation (WTO) meeting on the 8th and 9th of June, countries will vote on whether to pause the patents on COVID-19 vaccines [1]. If this vote succeeds, it could mean more countries and companies can manufacture life-saving vaccines. We call on your government to support suspending patent rules on COVID-19 vaccines, treatments and testing, so we can increase supply and provide enough doses for everyone, everywhere. We call on your company to openly share vaccine know-how by joining the World Health Organisation COVID-19 Technology and Access Pool (C-TAP). We demand a People's Vaccine.
Why is this important?
In Mzansi, as infections rise again, it is now clear that we won't reach our goal of vaccinating 41 million people by the end of 2021 [2]. We are behind schedule with vaccinations, not only because of issues with the roll-out, but because the world is not manufacturing vaccines fast enough, and rich countries are at the front of the queue. It didn't have to be this way. Earlier in the year over 100 countries supported temporarily waiving patents on COVID-19 medical tools and technologies [3]. But rich countries, like the United Kingdom which has vaccinated half of its adults with two vaccine doses [4], sided with pharmaceutical companies by putting profits before people. The tide is shifting. After a lot of public pressure, President Biden of the United States has come out in support of the COVID-19 vaccine patent waiver on World Trade Organisations rules [5]. Spain and Italy also support the waiver on COVID-19 vaccine patents [6] [7].
[1] TRIPS Council regular meetings: https://www.wto.org/english/tratop_e/trips_e/intel6_e.htm
[2] SA is not reaching herd immunity. Our new goal is containment – here's how it works: https://bhekisisa.org/resources/2021-06-03-sa-is-not-reaching-herd-immunity-our-new-goal-is-containment-heres-how-it-works/
[3] Countries obstructing COVID-19 patent waiver must allow negotiations to start: https://www.msf.org/countries-obstructing-covid-19-patent-waiver-must-allow-negotiations
[4] Over half of UK adults vaccinated with the second dose: https://www.gov.uk/government/news/over-half-of-uk-adults-vaccinated-with-second-dose
[5] ] U.S. reverses stance, backs giving poorer countries access to COVID vaccine patents. Reuters. 6 May 2021.
[6] Spain backs vaccine patent waiver, calls for more international cooperation. Reuters. 7 May 2021.
[7] EU 'ready to discuss' COVID vaccine patent waiver, says von der Leyen. Aasra Bramdeo for SABC News. 6 May 2021.