To:

Parliament RSA & Ministers Angie Motshekga, Aaron Motsoaledi & Bathabile Dlamini
Pads, bleeding the poor dry!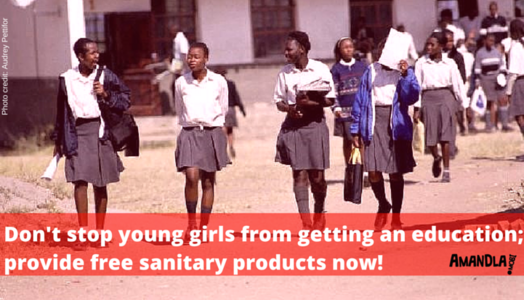 We call on you to supply essential sanitary products to young girls, particularly those from low income communities across the country.
Minister Angie Motshekga, the Department of Basic education, provides nutrition and other necessities to learners from quintiles 1-3. We ask that the government also provide sanitary products for these learners to allow them to continue their education - they are as much a necessity as food.
While we recognise the efforts made by your department in conjunction with P&G(Always) in some province, but a once-off charity and PR stunt is not sufficient. We call on you to work with the Ministers included here and standardise provision of pads and other sanitary products to the young learners who have come of age.
It's time for our national government to pay attention and find a long-lasting solution to a social problem that affects many young girls. Children in education shouldn't have to feel ashamed because of a problem that has a very simple solution.
Why is this important?
Akhona is in grade eight. Like many of her classmates, she often misses school when she has her periods because her family cannot afford sanitary pads [1]. Akhona is not alone. On average in Mzansi. a girl will miss 60 days of school because of her period [2]. And some are forced to use socks, newspapers and worse because they can't afford sanitary pads.
Over time this can cause girls to drop-out completely. If they struggle through, they often find themselves unable to fully take part in school activities.
Livity Africa's LiveVIPZA campaign, which initiated the parliament challenge, aims to present a plan in June on how to provide sanitary pads to low income communities to the Health Portfolio Committee. But the implementation requires that the Ministers of Basic Education, Health and Social Development kick start the plan.
[1] I use a sock as a sanitary pad, says Langa learner
http://www.groundup.org.za/article/i-use-sock-sanitary-pad-says-langa-learner_2418/
[2] Dignity Dreams article with information on how many girls miss school a month and in a year: http://www.ngopulse.org/organisation/dignity-dreams