To:

Minister Ebrahim Patel and President Cyril Ramaphosa.
Minister Patel must make COVID-19 medicines accessible to all by taking steps to #FixThePatentLaws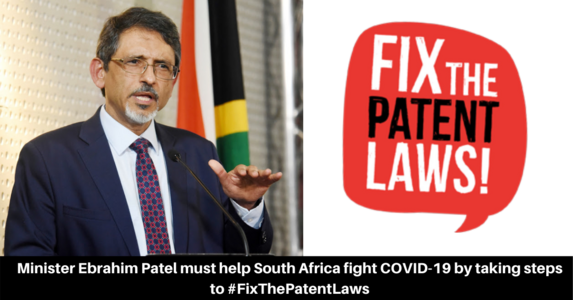 We call on Minister Ebrahim Patel to help South Africa fight COVID-19 by taking steps to #FixThePatentLaws.
The Fix The Patent Laws Coalition, a group of over 40 organisations, has called on the South African government to take the following steps to help fight COVID-19:

- Put a temporary moratorium on granting patents on
COVID-19 related products as they are proven effective.
- Automatic compulsory licensing of COVID-19 related health products with existing or pending patents.
- Fix the Patent Laws urgently to ensure the use of all legal flexibilities to improve access to health products.
We commend President Cyril Ramaphosa for the impressive strides taken at the global and regional level to lobby in support of equitable access to COVID-19 medicines. We call on President Ramaphosa mobilise the support of the African Union and its member states to stand united and support South Africa and India's proposal, and to take further steps at the domestic level to support intellectual property law reforms that were approved by Cabinet in 2018.
We also call on all countries to support South Africa and India's proposal to the Trade-Related Aspects of Intellectual Property Rights (TRIPS) for a temporary waiver of all patents on products needed to test, treat or vaccinate against COVID-19, and to act with urgency. The world needs bold steps such as this that prioritise the needs of vulnerable populations above profits and nationalism.
Join activists around the world in calling on the World Trade Organization to support the progressive proposal made by the South African and Indian governments to suspend the WTO rules that prop up big pharma monopolies. We need to make sure that everyone everywhere can access effective COVID-19 vaccines and treatments.
#PeoplesVaccine #FixThePatentLaw
https://www.fixthepatentlaws.org/fix-the-patent-laws-coalition-supports-south-africa-and-indias-proposal-to-facilitate-access-to-covid-19-vaccines/
Why is this important?
COVID-19 is a global health crisis and one that affects working-class and poor people disproportionately. The world needs bold steps such as this that prioritise the needs of vulnerable populations above profits and above nationalism.
Patents, and other intellectual property instruments, can act as obstacles to accessing medicines because they protect manufacturers from competition, keeping the prices of medicines high. This was the case with anti-retroviral therapies (ART) in South Africa in the early 2000s – when hundreds of thousands of people needlessly died because they could not afford the high prices of ART. We cannot allow the same thing to happen with COVID-19.
Access to medicines is a critical component of the right to access healthcare. We stand behind our government in its efforts to ensure that developing and middle-income countries are not left behind while wealthy countries secure deals with pharmaceutical companies, and we need Minister Patel and President Ramaphosa to act with urgency to ensure that South Africa has an intellectual property regime that ensures equitable access to life-saving medical products now!
How it will be delivered