To:

Rob Shuter, CEO of MTN
Tell MTN to stop stalling #DataMustFall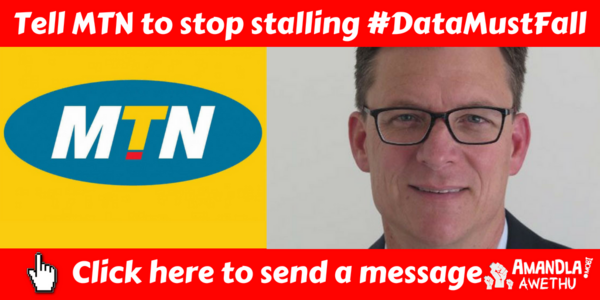 Drop your legal action and comply with ICASA's regulations
Why is this important?
#DataMustFall got ICASA, the communications regulator, to introduce new rules that stop networks from chowing airtime when your bundle runs out, and making your data expire.
But 24 hours before networks had to implement ICASA's the new rules, Cell C made an urgent application to the court to stop the new ICASA regulations. MTN has joined Cell C in this action. ICASA has pushed back [1], but needs our help in creating public pressure to save millions of Mzansi's people who continue to be pick pocketed by networks.
Will you call on MTN to drop the legal action and comply with ICASA's regulations?
Recently, MTN announced a 200% data price increase [2]. It is hardly surprising that MTN are stalling the ICASA regulations given share prices have dropped by 53% over three years [3] They are trying to use the poor to maintain their profit margins and make returns for their shareholders.
We know that MTN are merely stalling the regulations with this legal action- and we can beat them. Already, thousands of people across Mzansi joined the #DataMustFall campaign, and made submissions to ICASA on how these ridiculously high data prices affect them. Our actions resulted in regulations that will allow us to carry over unused data and not be charged high out-of-bundle rates without consent.
With each month that passes without these regulations coming into effect, more money is robbed from our pockets. If we apply enough pressure on MTN as its customers, we could force them to back off this legal action and comply with the ICASA regulations. By emailing the CEO of MTN about his network's actions, we will expose them to public scrutiny, creating a public backlash that could force them to drop their legal action. Will you sign?
[1] ICASA Notes Cell C's Urgent Application To Review The Eussc Regulations. 7 June 2018.
[2] Fans ready to cancel MTN after 200% data bundle price increase, Kyle Zeeman for TshisaLive. 17 July 2018.
[3] SA telecoms shares come tumbling down, Tech Central. 27 June 2018.