To:

His Excellency, Cyril Ramaphosa, President of South Africa
President Ramaphosa, sign the Political Party Funding Bill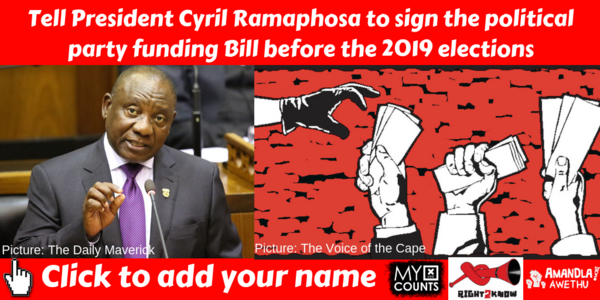 Sign the Political Party Funding Bill before the 2019 elections
Why is this important?
The Political Party Funding Bill has the potential to curb the instances of corruption that plagues our political and electoral systems. We have seen it with the State Capture Inquiry and through the instances of maladministration in local government structures. All of this because we don't have access to the crucial information of who provides funding to political parties.
It is our democratic right to not just vote but to make an informed vote. The information of political parties' private donor information is required to make an informed vote at the elections. The longer the President delays signing the Bill into law, the longer we will have this democratic right denied.
After twenty-four years of South Africa's democratic dispensation, political parties remain unwilling to provide the public with information on their private funding. For many years, we have been campaigning for Parliament to regulate the transparency of political parties private funding information. Although long overdue, in 2017 Parliament finally drafted the Political Party Funding Bill. This Bill is the only law that will place an obligation on political parties to disclose information on their private funding. Earlier this year the Bill was adopted in Parliament, however the Bill cannot be implemented until President Cyril Ramaphosa signs the Bill into law.
Sign this petition and help put measures in place that could effectively prevent more dubious dealings on all levels of government that affects all South Africans.