To:

Parliament and the Information Regulator
Protect our private info! Implement SA's privacy law!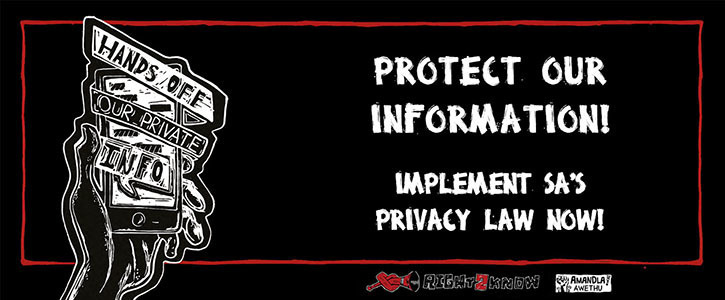 Dear Adv Pansy Tlakula (Chair of the Information Regulator) and Parliament,
Please act now to implement the Protection of Personal Information Act, to protect against the abuse of our personal information by private companies, political parties and government agencies!
Why is this important?
Every day, ordinary South Africans get calls and messages from private companies that want our money, or political parties that want our votes, or banks that want us to take out loans.
But how did they get our information?
There is a powerful privacy law called the Protection of Personal Information Act (POPI) which is meant to protect every person's personal info from being traded, misused or stolen [1].
The POPI Act is meant to be enforced by a new privacy watchdog called the Information Regulator (headed by Adv Pansy Tlakula), which can investigate companies or departments that misuse your personal info.
But six years after being signed, this privacy law isn't fully in force.
After years of bureaucratic delays, the Info Regulator is still not operational.
The law will not come into full force until the Info Regulator has enough staff and resources to fulfill its watchdog mandate.
While these delays continue, millions of South Africans' personal info have been exposed through 'data breaches' by private companies and government agencies [2].
We need the watchdog up and running to investigate and act against companies and departments which misuse our private info. This is especially urgent as South Africa heads to 2019 elections, given the growing risk of personal info being used for electoral interference [3].
We call on the Information Regulator and Parliament, Treasury to act now: get the watchdog fully staffed and operational, and get the POPI law in force!
_________________________
[1] Read more: What you need to know about the POPI law, at https://r2k.org.za/popi-guide

[2] "Five massive data breaches affecting South Africans," Fin24, 19 June 2018: https://www.fin24.com/Companies/ICT/five-massive-data-breaches-affecting-south-africans-20180619-2

[3] "How Trump consultants exploited the Facebook data of millions," 17 March 2018: https://www.nytimes.com/2018/03/17/us/politics/cambridge-analytica-trump-campaign.html
Note from R2K: View the Amandla.mobi privacy policy at http://awethu.amandla.mobi/privacy_policy
It includes a commitment that your personal information will not be provided to any third parties, including us. All signatories to this petition have the right not to receive further updates about this campaign or any others.