To:

Herman Mashaba, City of Joburg Mayor
Provide basic services to informal settlements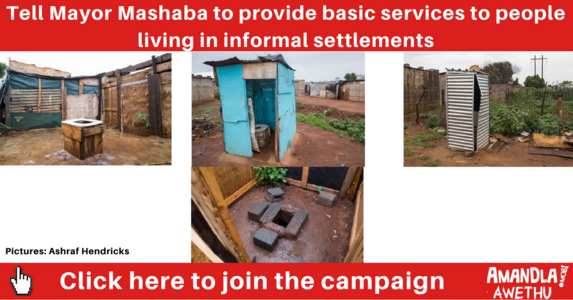 Provide basic services to informal settlements
Why is this important?
"When we think about using the toilet, we feel dirty. We feel like we don't have human dignity, but we have nowhere else to live, so we just have to make the best of it. This is why we are building our own toilets." Margret Mabene, Mzondi resident.
Just recently, reports surfaced that people living in Mzondi informal settlement, Ivory Park, had started a crowdfund so that they could build toilets [1]. This desperation exists across many informal settlements that are scattered across South Africa's cities. Despite this, many people living in informal settlements are overlooked in service provision. There is a growing demand for living space around cities, and South Africa has housing backlogs.
People living in informal settlements have rights. The need to grant them access to water and sanitation is a human rights issue. South Africa has the laws that force municipalities to provide basic services. Abahlali BaseMjondolo, in their Harry Gwala court case against the City of Ekurhuleni, are a good example of how people living in informal settlements have used the law to defend their rights. In this case, the people successfully argued that Ekurhuleni had a statutory obligation in terms of the Water Services Act, which requires a safe albeit temporary toilet for each stand, including in informal settlements [2].
It is important for ordinary South Africans to stand in solidarity with those who are marginalised. This is important for the advancement of justice and equity, ideals that are enshried in our Constitution. People living in informal settlements deserve dignity, like all human beings, irrespective of their material condition.
[1] Community tries crowd funding to get toilets, Zoe Postman for GroundUp News. March 13, 2018.
[2] The right to basic services in informal settlements: Notes on Harry Gwala High Court hearing 12 December 2008, Abahlali BaseMjondolo. Dec 15, 2008.