To:

The Joint Multi-Party Women's Caucus Chair, Hon RMS Morutoa
Decriminalise sex work now! Don't let this moment pass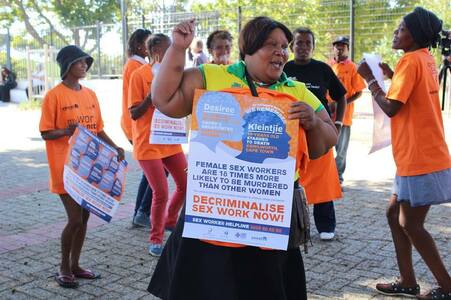 By signing this campaign you will be adding your name to support the following public submission:
The Joint Multi-Party Women's Caucus
Chair: Hon RMS Morutoa
I, a concerned person, note the South African Law Reform Commission's Report on 'Sexual Offences: Adult Prostitution' and hereby wish to make a submission.
The Commission's preferred option is to retain a fully criminalised legal framework to regulate sex work in South Africa. This was the recommendation despite the mounting evidence (global and local) that criminalisation has not, and will not improve access to basic human rights for sex workers. In addition, the secondary inclusion of partial criminalisation as an option is also extremely fraught. Evidence shows that both criminalisation as well as partial criminalisation has resulted in high levels of violence, with sex workers being unable to access health and justice services.
I call for:
- The SALRC Report be set aside in light of its lack of research, its poor quality and anti-human rights framing
- The Department of Justice provides clarity and a timeline on the law reform process going forward
- The Department of Justice consult with Sisonke the National Sex Worker Movement of South Africa in the drafting of legislation
- Continued support of the Multi Party Women's Caucus and ANC's call for the full decriminalisation of adult sex work
Why is this important?
Sex work is work, and right now sex workers are calling for solidarity to keep them safe by supporting the call for the full decriminalisation of adult sex work. Some in Parliament support this call and if enough of us make public submissions before the 26th February 2018, we could change the lives of sex workers. Like many other people, Nosipho uses her profession to support herself and her family, to further her studies, to save up for her future and to gain financial freedom and security [1]. But because sex work is criminalised in Mzansi, she and many others, face unsafe working conditions where they face corrupt police who want bribes or rape sex workers in exchange for not being arrested.
https://www.youtube.com/embed/dg4l3X9rJHw?ecver=1
This video explains the 4 possible legal models for sex work and why South African sex workers want the full decriminalisation of sex work.
Despite the overwhelming evidence showing the ongoing harm caused by criminalisation, the much anticipated sex work report by the South African Law Reform Commission (SALRC) recommends that sex work remains a criminal offence [2].
Now, for the first time in decades, there's a real chance for change. Sex workers and women's rights groups, like SWEAT and Sisonke, have loudly condemned the report. Parliament's Multi-Party Women's Caucus noted the flaws of the report [3] and the chairperson of the Caucus stressing that the full decriminalisation of sex work is the only model that respects the rights of sex workers [4].
In just a few days, the Women's Caucus could help determine what the future looks like for people like Nosipho. If we don't speak out against this horrendous report sex workers may be sent back into danger. There's only a few days left to make submissions responding to the report. Make sure to send yours through by the 26th February 2018.
[1], I am a sex worker: criminalising my work puts me in danger, Nosipho Vidima for GroundUp News, June 14, 2017.
[2] Parliament's women's caucus to host sex work summit, Jeanette Chabalala for News24. Feb 9, 2018.
[3] Sex work report on prostitution rejected, Nicola Daniels for Independent News. May 30, 2017.
[4] Multi-Party Women's Caucus disappointed about law reform commission report on adult prostitution, Ms Masefele Story Morutoa. June 1, 2017.