To:

Johannesburg Property Company / Mayor
Support Garden Project versus Playground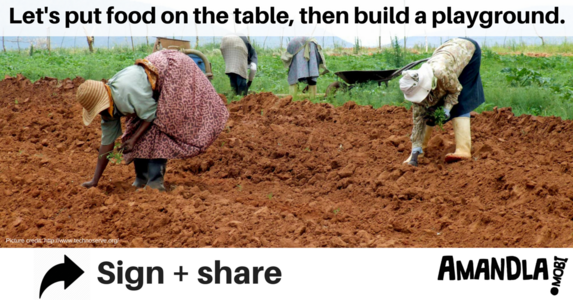 12 Million People go to bed on a hungry stomach every night in our country (http://m.timeslive.co.za/thetimes/?articleId=7906847). We applied back in 2011 for a piece of land, a landfill that has been a dump since the birth of this country and continues to be, to date.
We had applied to use the land for a sustenance / subsistence vegetable food garden to belong and be run by the Orlando West community on sweat participation and cooperative principles, with great potential for communal tourism business, due to the close proximity to a popular tourist attraction site.
On 21 January 2014 we received communication from the company (JPC) that the land has been reserved for Public Open Space, in a country with a more than 25% unemployment rate, coupled with abject poverty.
Objectives
> Hydroponic (Water Planting) vegetable growing systems
> Aquaponics (Fish Tank Planting) vegetable growing systems
> Permaculture vegetable growing systems
> Computerization of All Processes - Introduction to Technology
> Employment Opportunity Creation - within own Neighborhood
> Establishment of a Healthy Living Restaurant
> Great Communal Tourism Business
> Nutrition Promotion
> Introduction of the DaKota Meals (10 / 12 Vegetable Meals)
We, the undersigned, call on the Johannesburg Property Company / Mayor of City of Johannesburg to grant the community of Orlando West, Soweto the opportunity to feed themselves while creating the much needed employment and technological advancement opportunities within their own neighbourhood, permission for a communal vegetable food garden on ERF No. 12840 and others, Orlando West Soweto
Why is this important?