To:

Sipho Maseko, CEO of Telkom
Tell Telkom to stop stalling #DataMustFall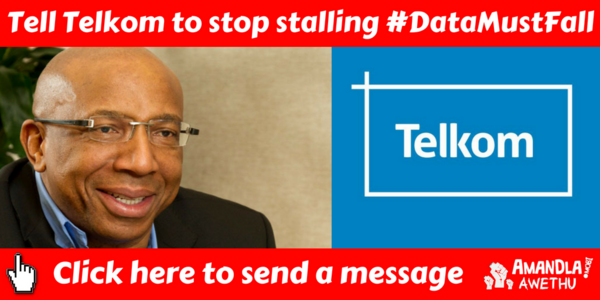 Comply with ICASA's regulations immediately.
Why is this important?
#DataMustFall got ICASA, the communications regulator, to introduce new rules that stop networks from chowing airtime when your bundle runs out, and making your data expire.
But 24 hours before networks had to implement ICASA's the new rules, Cell C made an urgent application to the court to stop the new ICASA regulations just hours before they were meant to be implemented, them. Telkom has also taken legal action. ICASA has pushed back [1], but needs our help in creating public pressure to save millions of Mzansi's people who continue to be ripped off with high data prices.
The people of Mzansi voiced how they were affected by high data costs charged by the likes of Telkom and other service providers. The Independent Communications Authority of South Africa (ICASA), after public hearings, published End-User and Subscriber Service Charter Regulations which were meant to come into effect on 8 June 2018, relieving the enormous data costs we all face.
Telkom said they welcome ICASA's position on the need for fairness in business practice around data pricing and the expiry of data bundles [2]. And we need to make sure that they remain true to their word. Research shows that low income consumers are paying disproportionately high charges, and are not seeing benefits of competition in comparison to high income consumers who are able to buy larger quantities of data [3].
[1] ICASA Notes Cell C's Urgent Application To Review The Eussc Regulations. 7 June 2018.
[2] New data rules: MTN' Vodacom' Cell C and Telkom respond, Adiel Ismail for Fin24. 29 April 2018.
[3] Izolo: mobile diaries of the less connected, Research report by Making All Voices Count. 20 Nov 2017.
[4] MTN, Vodacom charging up to 2 639% more for out-of-bundle data - report, Kyle Venktess for Fin24. 12 march 2018.