To:

British American Tobacco CEO Jack Bowles
Tell British American Tobacco to pay the tax they owe us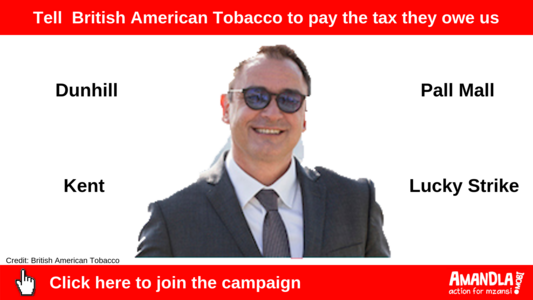 We the undersigned call on you to pay Sars the R143 million that British American Tobacco owe.
Why is this important?
The big cigarette company British American Tobacco (BAT) have been fighting hard against new anti-smoking laws and taxes by shifting focus onto the illicit cigarette trade and tax evasion. They are funding a misleading campaign to convince government not to increase taxes on cigarettes so they can protect their profits [1]. Even companies like PricewaterhouseCoopers (PwC) are repeating industry claims that increasing taxes drives the illicit trade [2], even though industry has been caught over estimating and funding research into illicit trade [3].
Now Sars say BAT themselves are guilty of tax fraud and evasion and owe R143 million [4]. Clearly, they have been dishonest and shady in their tactics. But big companies like BAT rely on their brand and public image so they are vulnerable to us exposing their hypocrisy.
If enough of us come together and shine a spotlight on their shady business and demand they pay what they owe- they will have no choice but to pay the R143 million. Join the campaign to demand BAT stop tax evading and pay what they owe.
Each year South Africa spends more than R59 billion to address tobacco related illnesses like lung cancer, emphysema, asthma and bronchitis [5]. At the same time the country only collects between R11 billion and R13 billion from tobacco taxes [6]. This means the South African taxpayer is paying for the healthcare bill of tobacco-related harm while the tobacco industry collects the profits.
Our queues at clinics and hospitals keep getting longer and government keeps cutting the healthcare budget while cigarette companies make billions. But, if enough of us come together and demand they pay what they owe, they will have no choice but to pay the R143 million. Government can use this money to help our struggling healthcare system.
References
[1] Did Big Tobacco buy Twitter? Joan van Dyk for Mail & Guardian 7 Sept 2018
[2] What to expect from the budget: Small tax increases, lower tax collection. Muhammad Hussain for City Press 13 Feb 2019
[3] Are the tobacco industry's claims about the size of the illicit cigarette market credible? The case of South Africa. 2014 Corné van Walbeek, Lerato Shai
[4] Sars faces off with British American Tobacco over R143m tax bill, Graeme Hosken for Sunday Times April 2019
[5] The Tobacco Atlas - South Africa
[6] BAT revenue rises but profit and market share fall, Robert Laing for Bizcommunity July 2017