To:

Joanmariae Fubbs, Chairperson of the Portfolio Committee on Trade and Industry
Tell Joanmariae Fubbs #HandsOffTheSugaryDrinksTax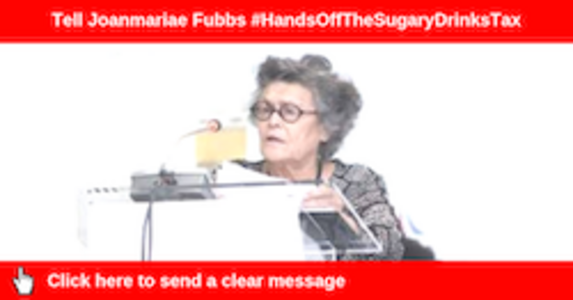 We call on you to support the Sugary Drinks Tax and put the health of all people living in South Africa before corporate interests.
Why is this important?
We all know Mzansi's health system is under a lot of pressure, and globally experts have warned that sugary drinks are increasing rates of obesity and Type 2 Diabetes [1]. Researchers from Wits University [2] and the World Health Organisation back policies like the Sugary Drinks Tax as measures to improve people's health. The introduction of the Sugary Drinks Tax is an important first step towards lifting the pressure on our health system and keeping South Africans healthy. So far the tax has raised R2.3 billion which will be used for health promotion and go back into our healthcare system.
But the Department of Trade and Industry committee has called on the Minister of Trade and Industry to intervene in what they call 'a crisis in the sugar industry'. Chairperson of the Portfolio Committee on Trade and Industry, Joanmariae Fubbs, has called for a moratorium on the Sugary Drinks Tax [3]. Big business are trying to maximize profits by getting the Sugary Drinks Tax repealed. We know their greed has put our nation's health at risk. But we have a chance now to stop this. Let's send a message to Joanmariae Fubbs and the rest of Parliament, we the people stand behind the Sugary Drinks Tax. If enough of us come together, our voices will be so loud that Joanmariae Fubbs will have to listen.
Tackling obesity-related diseases needs to be a national priority, and the tax on sugary drinks is a first step in addressing this national epidemic.
One in four people in South Africa are obese [4]. Excess sugar consumption is a major cause of obesity and its related diseases, as excessive sugar intake causes increased risk of diabetes, liver and kidney damage, heart disease, and some cancers. The World Health Organisation (WHO) and the World Cancer Research Fund recommend that people should consume no more than 10% of total calories from sugar.
The South African government has been under pressure from beverage companies and retail groups who have been flooding Parliament and Treasury with comments to stop this life-saving policy or weaken it with exemptions and loopholes—and they are having an impact.
The South African government MUST put the health of South Africans before special interests who target the most vulnerable populations with their unhealthy products. Please make your voice heard today!
[1] Sugar-sweetened beverages and risk of metabolic syndrome and type 2 diabetes: a meta-analysis, Malik VS, Popkin BM, Bray GA, Després JP, Willett WC, Hu FB. Sugary Drinks and Obesity Fact Sheet, Harvard School of Public Health.
[2] Sugar tax could save South Africa billions by James Thabo Molelekwa for Health- E News. April 21, 2016.
[3] MPs call for intervention in embattled sugar industry by Linda Ensor for Business Day, February 2019
[4] Is SA the 'fattest nation' in sub-Saharan Africa, with a third of people obese Kate Wilkinson for Africa Check July 2015