To:

Life Healthcare acting CEO Pieter van der Westhuizen, Netcare CEO Dr Richard H. Friedland, and Mediclinic CEO Mr. Koert Pretorius
Tell Netcare, Life Healthcare Group and Mediclinic to protect healthcare workers and save lives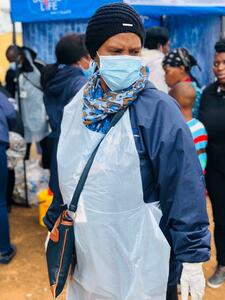 We are in a fight for our lives! And our frontline workers need your help. In order to provide quality and safe healthcare for us all; all healthcare workers should have access to regular free testing and to be provided with adequate personal protective equipment (PPE) and free medical attention.
Yet in the middle of a pandemic, the state of our healthcare is such that
• 75% of healthcare workers surveyed feel that the PPE provided is not adequate to protect them from Covid-19
• 62% of healthcare workers interviewed said that they did not receive adequate training.
• Only 3% of healthcare workers interviewed said they felt highly confident to do their job based on their training. While 49% are not confident at all.
• The medical attention provided for COVID-19, other than testing, is not free and accessible for most surveyed as they have to rely on their access to medical aid. Healthcare workers that are least likely to benefit from medical aid, are those on short term contracts or are employed via labour brokers.
• 60 percent of those surveys say they have not been regularly tested (tested once since the lockdown), and 30 percent say they have never been tested.
Thus, it is no surprise 27 360 healthcare workers have contracted the virus. We urgently need to pool all available resources in solidarity with our healthcare workers that can ensure their protection so that together we have a fighting chance with this pandemic.
We are calling on the private sector to be a team player and join fellow South Africans in putting life before profits. The key players in the private healthcare industry are Netcare, Life Healthcare, and Mediclinic, who have a combined market share of more than 80%.
But the private healthcare providers have been handing out monies in the billions to shareholders.
Why is this important?
From 2016 to 2019, Netcare, Life Group, and Mediclinic paid out more to shareholders than they made in profits. They paid out R 19 billion in payouts to shareholders (dividends and share buybacks) in the same period they only made R11 billion in profits.
This means that even when these companies were making losses, the shareholders continued to gain millions in wealth. Over the years the pay-outs to shareholders have come at the cost of better healthcare outcomes and better working conditions for healthcare workers.
These companies need to step up and show they care about more than shareholder profits. In this time of crisis, we must prioritise the health and wellbeing of all South Africans not just those who are wealthy.
Tell Netcare, Mediclinic, and Life that they need to stop shareholder payouts (dividends and share buybacks) till 2022 to ensure that all available resources are prioritized for free regular testing for all healthcare workers, and free medical attention for healthcare workers who contract Covid-19 and adequate (PPEs) for all healthcare workers working in South Africa in public and private facilities.
This petition is co-signed by:
Young Nurses Indaba Trade Union(YNITU); Oxfam SA; Public Services International (PSI); National Union of Care Workers of South Africa (NUCWOSA); Treatment Action Campaign (TAC); South African Federation of Trade Unions (SAFTU), and Amandla.mobi.
Reference:
A survey was conducted by Oxfam South Africa. Oxfam South Africa surveyed 166 healthcare workers for a month during the period of the 27 July 2020 to 27 August 2020 using two trade union's databases: The Young Nurses Indaba Trade Union (YNITU) and National Union of Community Healthcare Workers of South Africa (NUCWOSA). The survey was sent via Whatsapp messages directly to the healthcare workers on the database. The survey was sent to healthcare workers in Gauteng, Western Cape, and the Eastern Cape. The survey respondents were mostly nurses (90%), permanent workers (88 %), 86 % in the public sector, and 10 percent in the private sector. A note on the low response rate from private-sector employees is that some respondents that they and their colleagues feared intimidation for participating in the survey.
Figures from Department of Health South Africa 13 August 2020 and correct as of 21 August 2020.
https://bhekisisa.org/resources/2020-08-14-health-workers-make-up-one-in-20-of-covid-19-cases-in-south-africa-new-data-shows/
Oxfam South Africa. (2020). The Right to Dignified Care Work is a Right to Dignified Health Care For All. https://www.oxfam.org.za/wp-content/uploads/2020/07/Oxfam_Care4Carers-Report_Final_20200701.pdf