To:

Dr Zweli Mkhize, Minister of Health
Tell our new Health Minister we want a stronger sugary drinks tax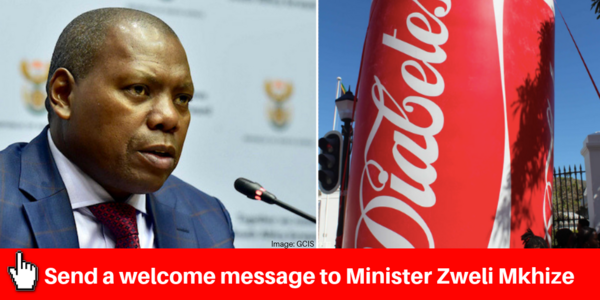 Dear Minister of Health Dr Zweli Mkhize,
We desperately need the kind of leadership you showed in KZN during the height of the HIV/AIDS crisis. With an estimated 10,000 new cases of diabetes reported each month in South Africa, we need strong and swift action against Non-Communicable Diseases [1]. In 2017 the beverage industry tried to put their profits before our nations health, and partially succeeded by watering down the Sugary Drinks Tax from 20% to 11%.
We want you to know that we the people stand behind strong action by government, and we hope you will join us and push for a 20% Sugary Drinks Tax and other bold interventions to address Non-Communicable Diseases.
Why is this important?
In 2017 thousands of us came together to stop the likes of Coca-Cola trying to stop the sugary drinks tax. While the beverage industry watered down the sugary drinks tax, we won our campaign to get the tax implemented. With a new Health Minister, Dr Zweli Mkhize, we have an opportunity to get his attention and call on him to take strong action against Non-Communicable Diseases through supporting our call to increase the sugary drinks tax to 20%.
Let's get Minister Mkhize's attention. If enough of us come together and send him welcome messages, it could get the new Minister to make protecting the sugary drinks tax from industry a priority and increase it to 20%. It only takes a minute to send the pre-written message to Minister Mkhize, but if you could add a personal message, our welcome will be even more powerful.
Excessive sugar intake causes increased risk of diabetes, liver and kidney damage, heart disease, and some cancers. Tackling Non-Communicable Diseases needs to be a national priority, and increasing the tax on sugary drinks is a first step in addressing this national epidemic.
The new Minister of Health, Dr Zweli Mkhize, has a history of doing important life-saving work on HIV in KZN. He could be an important ally if he pledges his support to increase he sugary drinks tax and could help protect it from industry.
Send a direct welcome message to Minister Mkhize and make sure he joins us in our fight to make the food we eat healthy. If we flood his mailbox with welcome messages, he'll have no choice but to prioritise protecting the sugary drinks tax from industry and increase it to 20%.
When Coca-Cola tried to stop the Sugary Drinks Tax from happening with dodgy research on job losses and pressuring our elected leaders - we came together and stood against their bullying. From fighting greedy corporations to lobbying MPs to protect the tax- we've shown that our people power works. Let's come together again and make sure the Sugary Drinks Tax is here to stay.
[1] Junk food, junk status cause skyrocketing medical costs, Health-e News for The Daily Maverick April 24 2017