To:

Shameel Joosub, CEO of Vodacom
Tell Vodacom to implement ICASA rules to make data last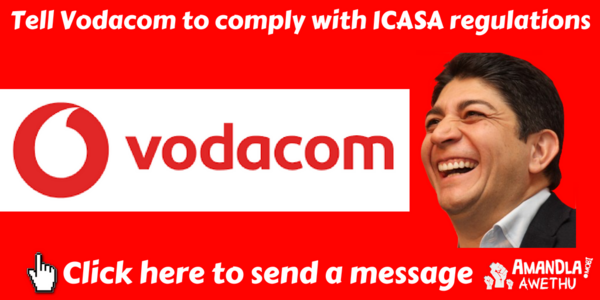 Show leadership, and implement the ICASA regulations despite the legal action from other networks.
Why is this important?
#DataMustFall got ICASA, the communications regulator, to introduce new rules that stop networks from chowing airtime when your bundle runs out, and making your data expire.
But 24 hours before networks had to implement ICASA's the new rules, Cell C made an urgent application to the court to stop the new ICASA regulations just hours before they were meant to be implemented. MTN and Telkom have joined Cell C in this action. ICASA has pushed back [1], but needs our help in creating public pressure to save millions of Mzansi's people who continue to be ripped off with high data prices. While it doesn't appear that Vodacom have joined MTN, Cell C and Telkom in taking legal action against ICASA over the regulations, they are benefiting from the regulations being delayed. Let's demand Vodacom show leadership and implement the regulations.
Will you call on Vodacom to immediately comply with ICASA's regulations?
The people of Mzansi voiced how they were affected by high data costs charged by the likes of Vodacom and other service providers. The Independent Communications Authority of South Africa (ICASA), after public hearings, published End-User and Subscriber Service Charter Regulations which were meant to come into effect on 8 June 2018, relieving the enormous data costs we all face.
It's not surprising networks want to undermine ICASA so our Data Must Fall campaign isn't successful. They have a lot to lose should the regulations be implemented. Last year, Vodacom reported that they make R2 billion per month from data alone [2]. Research shows that low income consumers are paying disproportionately high charges, and are not seeing benefits of competition in comparison to high income consumers who are able to buy larger quantities of data [3].
[1] ICASA Notes Cell C's Urgent Application To Review The Eussc Regulations. 7 June 2018.
[2] Vodacom now makes R2 billion per month from data, My Broadband. Jan 31, 2018.
[3] Izolo: mobile diaries of the less connected, Research report by Making All Voices Count. 20 Nov 2017.
[4] MTN, Vodacom charging up to 2 639% more for out-of-bundle data - report, Kyle Venktess for Fin24. 12 march 2018.