To:

Minister for Human Settlements, Water and Sanitation: Lindiwe Sisulu
Lindiwe, what happened to the R600 million in Rent Relief?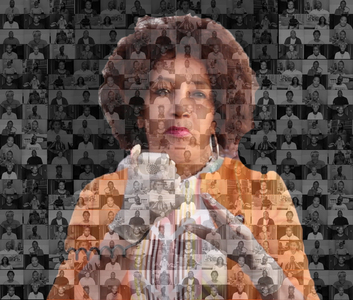 National Department of Human Settlements, Water and Sanitation do your job and urgently:
1. Prioritise tenants whose income has been most affected by the pandemic;
2. Publish the policy document detailing to whom and how the R600 million will be allocated;
3. Provide clear timelines for when the above will take place;
4. Keep the public regularly informed on any and all progress; and
5. PAY THE MONEY!
See the full petition text here: https://jmp.sh/Abnaxub
Why is this important?
On 21 July 2020 the Minister of Human Settlements, Water and Sanitation Lindiwe Sisulu announced in her budget vote speech that her Department planned to allocate R600 million towards rental relief to tenants in affordable housing facing financial distress due to the COVID 19 pandemic. The funding, aimed at tenants in 'formal affordable housing' was meant to help those facing potential homelessness to meet their monthly rental obligations. This in turn would assist landlords who depended on rental income to survive. In her speech, the Minister made the undertaking that the details of the rent relief for such tenants would be published 30 days after her address.[2]
IT IS NOW MORE THAN EIGHT MONTHS FOLLOWING THIS COMMITMENT AND NO DETAILS OF THE RELIEF SCHEME; NO POLICY PUBLISHED, AND NO FUNDING HAS BEEN RECEIVED BY TENANTS, WHO MAKE UP SOME OF THE PEOPLE HARDEST HIT BY THE PANDEMIC IN OUR COUNTRY.
The stark reality is that between 2.2 and 3 million people lost their jobs in the first months of lockdown.[2] This has created a situation where households are caught in a double bind between maintaining their shelter and having enough food and water to stay alive.
Correspondingly, the TPN Residential Rental Monitor for the fourth quarter of 2020 found that low end tenants had the weakest rental payment performance. Specifically, the report states that: "the "Less than R3,000/month" rental segment is populated by the most financially fragile tenant population, with significantly fewer financial "buffers" with which to weather any storms that translate into income loss, or those unexpected household expenses that arise periodically." [3]
In fact, the undertaking to provide R 600 million in rent relief was made to prevent the crisis that many of the 3 720 000 tenants [4] living in South Africa may now find themselves in. Albeit too little too late for tenants who have fallen victim to unlawful action by landlords and service providers across the country.[5]
The consequences of these shortcomings taken together might be even more dire: on 9 March 2021, DA Shadow Minister of Cooperative Governance and Traditional Affairs, Mr Cilliers Brink announced that the party is calling for the urgent lifting of Alert Level 1 lockdown regulations stating that the regulations make it "close to impossible" for property owners to obtain eviction orders.[6]
We are teetering on the brink of a secondary national disaster where we stand to exacerbate a health crisis into a homelessness crisis. The former UN Special Rapporteur on the Right to Housing Leilani Farha has cautioned that "[i]n the face of this pandemic, a lack of access to adequate housing is a potential death sentence for people living in homelessness"[7]. Home has rarely been more of a life or death situation – Housing remains Healthcare!
JOIN US IN DEMANDING THAT THE NATIONAL DEPARTMENT OF HUMAN SETTLEMENTS, WATER AND SANITATION DO THEIR JOB URGENTLY.
[1] https://www.gov.za/speeches/minister-lindiwe-sisulu-human-settlements-dept-budget-vote-202021-21-jul-2020-0000#
[2]https://cramsurvey.org/wp-content/uploads/2020/07/Spaull-et-al.-NIDS-CRAM-Wave-1-Synthesis-Report-Overview-and-Findings-1.pdf
[3]https://www.tpn.co.za/Group/Home/Media
[4] http://www.statssa.gov.za/publications/P0211/P02114thQuarter2020.pdf
[5] https://www.iol.co.za/personal-finance/government-needs-to-subsidise-tenants-rentals-50528669
http://www.statssa.gov.za/publications/P0318/P03182019.pdf
[6]https://www.da.org.za/2021/03/da-calls-for-lifting-of-lockdown-regulations-to-restore-private-property-rights
[7]https://www.ohchr.org/Documents/Issues/Housing/SR_housing_COVID-19_guidance_rent_and_mortgage_payers.pdf