To:

Prosecutor - Wynberg Magistrates Court
#JUSTICEFORVUYI - SAY NO TO BAIL for Femicide Accused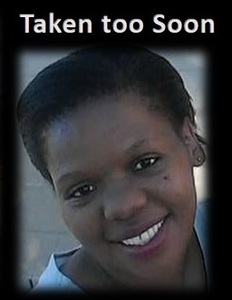 Dear all,
On the 14th of February 2017 the bail hearing in the intimate femicide case of Vuyi was heard in the Wynberg Magistrates Court. The matter was again postponed until 14 and 15 March 2017. As her friends, colleagues and neighbours, we appeal to the South African community to support JUSTICE FOR OUR BELOVED VUYI and sign NO BAIL petition here.
We as the local community, and South Africans, feel that the accused should not be allowed bail. Not only does he pose a threat to the community, but the nature of his crime is one that we feel needs to be treated as harshly as the law allows. We request that the accused be retained in custody, and not be allowed Bail. This petition will be printed and handed to the Prosecutor handling the case.
If in Cape Town, please join with us again at 08:30 on 14 March at Wynberg Magistrate's Court for the second bail hearing, where we will again stand in solidarity with our beloved friend - and all vulnerable woman - who may be at risk by virtue of their inherent strength. We are greatful to the organisations who supported us on 14 February, including the Reeva R Steenkamp Foundation, the Westlake Community Foundation, Optimystic Bikers Against Abuse MCC and The Pink Project - South Africa - Section 21 NPC. Further details of court gathering can be found here: https://www.facebook.com/events/388475078173351/ For archived material from second court gathering, please see the below links: http://www.timeslive.co.za/local/2017/02/14/Protesters-oppose-bail-for-man-accused-of-killing-wife1 http://www.news24.com/SouthAfrica/Local/Peoples-Post/killer-hubby-pleaded-guilty-20170214 https://l.facebook.com/l.php?u=http%3A%2F%2Fwww.news24.com%2FSouthAfrica%2FNews%2Fwestlake-man-to-plead-guilty-to-wifes-stabbing-20170214&h=ATOUTXd6SPipP7sxeWzLP57XJlzu_fRLndsAKw5YGcwMSQRVw7yBeMvB9G6__QOtvDJMXihg-6AiwGyzCm6nBuX8nbeJF-AzuHpp4lOD_HOYKLR04E6wVZ9fekDoxSyPCf-S https://l.facebook.com/l.php?u=http%3A%2F%2Fwww.iol.co.za%2Fnews%2Fspecial-features%2Foscar-pistorious%2Freevas-death-remembered-four-years-later-7753604&h=ATNISJOmT14U6fWfuELB10dw_WMI0VE9sNUJLzSb-Rp6vo3uo3eZrDRp3Hh4_fFyZfENjnMxY5MQVWTAop8WKNgcGbCaEgmalg7NJh9xgmcsfFdSxpFCv0dpCfKBH_ctOchZ
Why is this important?
On 2 January 2017, a strong, beautiful and tenacious young woman, with a heart made only of gold, was taken from us. A bright light in the lives of all who knew her, this loving mother of three children, was brutally assaulted and killed by her husband in Westlake, Cape Town. This mother of three was allegedly stabbed in full view of the community by her husband and residents claim he had been abusive towards her.
South Africa has a femicide rate five times higher than the global average.
"Research proves that the chances of a woman being murdered by someone that she knows or is in an intimate relationship with are much higher than any other type of murder… Motives are often financial, adultery or a love-triangle, custody or a residential battle for children." – Anni Hesselink.
In the words of community leader Vusumzi Nelani "This is a very sad case. This is what happens to many women and if the court is lenient this abuse will continue so we want the court to take this case very serious." (News24, 26/07/2017)
Please take a few minutes to sign today if you can. There are witnesses and three vulnerable young children we need to protect!! If we want our voices against domestic violence to count, we need them to count in court too!! Please share this link for friends, family and colleagues to sign. Thank you very much.
How it will be delivered