To:

Michael Masutha, Minister of Justice
Hon. Minister Masutha EXTEND the deadline on the Hate Crimes and Hate Speech Bill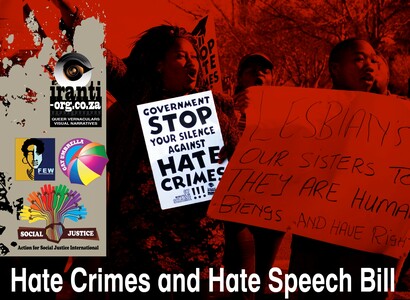 Send a direct message to Minister Masutha before the 31 January 2017 public submission deadline.
Why is this important?
Just recently, the body of 22-year-old LGBTQ activist Noluvo Swelindawo was found near the N2 highway in Driftsands, a community near Khayelitsha. She had been shot in an alleged hate crime.
It is in this light this, and many other cases of ongoing hate crimes against the LGBTI community that we welcome Cabinet's approval to publish the Prevention and Combating of Hate Crimes and Hate Speech Bill for public comment. The Bill tackles a number of highly complex issues that require consultation with those most affected by the changes - if it is to achieve its stated aims to prevent and combat deaths like Noluvo's - and a proper consultation process takes time. We have waited for many years for the public release of the bill, and it is of utmost importance that the public consultation period allows civil society and the public in general to thoroughly and meaningfully engage with the bill and its potentially far-reaching provisions. After it has taken government nearly four years to draft the Bill, it is alarming that the public has been given a mere five weeks (until 1 December 2016) with a short extension over the holiday season (to 31 January 2017) to comment thereon.
If the purpose is to craft an effective bill, the state needs to commit to coordinate robust public engagement and undertake in a process of deep reflection to ensure that the bill that is passed is the best bill possible. The current timeline does allow us to attempt to reach this ideal.

As such, we are calling on the Department of Justice (DoJ) to extend the deadline for public comment to the 30 June 2017. We further request clear and detailed information on DoJ's plan for convening extensive public consultations with representatives from civil society, non-governmental and community-based organisations and interested individuals on the draft bill.